A Midsummer Night's Dream
William Shakespeare
Lyric Hammersmith
–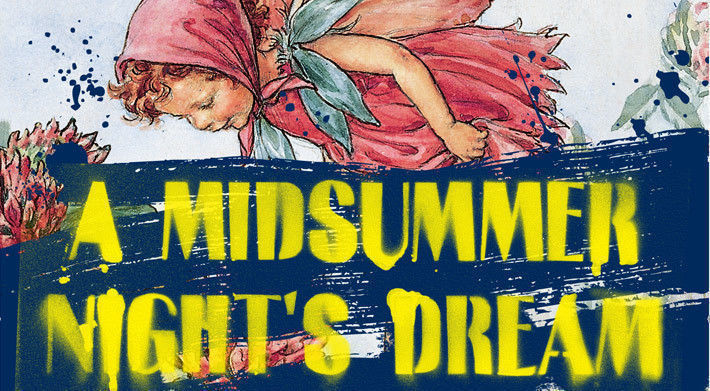 There are two questions that immediately come to mind on seeing this anarchic new modern dress take on A Midsummer Night's Dream.
Is this fun?—undoubtedly.
Is this Shakespeare?—that is more debatable.
The language used in Filter's 1¾ hour version is certainly largely drawn from the Bard but the look and feel could hardly be more different from the numerous classical interpretations that we all know and most of us love.
On this occasion, the stage is practically bare throughout, looking like some disused factory with an industrial sink in the corner, which plays its part in the action.
The only real props are musical instruments played by a trio, wittily named Peter Quince and the Mechanicals, who joyously wander around in the zone somewhere between heavy rock and punk and as a bonus provide a soundscape.
Before the play proper starts, the star of the evening, (inappropriately in the circumstances) puckish Irishman Ed Gaughan playing impresario Quince appears as a witty warm-up man. He tells some great jokes and builds up the excitement to the impending appearance of guest star Gary Oldman as Bottom.
Sadly, the BAFTA-nominated star of Tinker Tailor Soldier Spy was unexpectedly indisposed on opening night but there must be every chance that such big names will be present throughout the remainder of the run.
Fortuitously, a jobbing actor Mark Benton of Waterloo Road fame just happened to be sitting in the audience and bravely stepped into the breach. The oversized Geordie may have been "on the book" but soon became an integral part of the entertainment.
From this moment on, the energetic cast drift in and out of the original plot while lampooning and deconstructing it in a several posts-modern version.
The danger is that their wild fun is likely to have baffled anyone not reasonably well-versed in this tale of love viewed on numerous levels.
The early scenes are quickly skated over but propel four young lovers into a night of great confusion, from which they might never recover.
There, they are controlled by King of the fairies Oberon, played on this occasion by Jonathan Broadbent as a geeky superhero suffering from asthma. Poppy Miller as his Queen Titania is a black-clad Goth making up in attitude for all that her laid-back husband lacks. As befits the best fantasies, their troop of fairies is truly invisible, but well represented by one of this company's trademarks, its sound effects.
Ferdy Roberts is their Puck, looking like a bolshie stagehand and behaving like one as he causes mayhem through careless ineptitude.
The lovers' confusion and anger are well depicted as they become thoroughly mixed up at the hands of Puck, while the passion that develops between Titania and Bottom, playing the ass without the need for standard donkey's head, is quite remarkable when one recalls that the actor in the latter role had been sitting in the audience with his shopping a mere 30 minutes before.
The story eventually degenerates into a wild food fight with crumpets flying around the audience. This kind of zaniness and a couple of rocking musical interludes punctuate the storytelling providing much enjoyment but threatening its direction.
If any criticisms could be laid on the head of director Sean Holmes and the creative team from Filter, they would be of over ambition. At every turn, they strive for novelty and humour which frequently comes off and leads to some blissfully unforgettable moments. However, this can come at the cost of coherence in the telling of the story.
Overall though, a good time was had by all and anyone with a reasonable knowledge of the play will either to have a desperately bad allergic reaction or, much more likely, recommend this evening to all of their friends.
Reviewer: Philip Fisher