A Midsummer Night's Dream
William Shakespeare
Shakespeare's Globe
–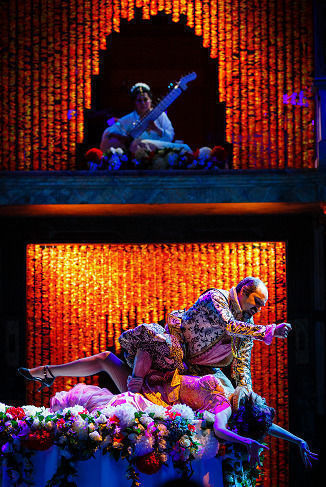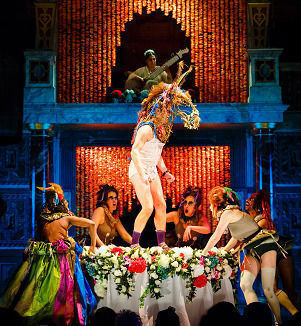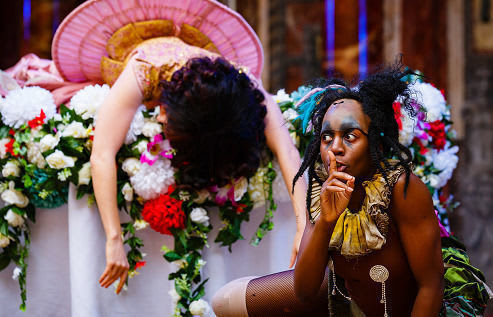 For the inaugural performance of former Kneehigh supremo Emma Rice's tenure as Artistic Director, Shakespeare's Globe undergoes the kind of transformation that Sam Wanamaker can never have conceived when he decided to devote decades of his life to the task of recreating the original Shakespeare experience for modern audiences.
A sign over the stage entices visitors to "Rock the Ground", though quite why is not made clear. It might as easily have proclaimed "What the Puck?", since this summery comedy is given such a radical makeover.
To be fair, a determinedly multicultural production that smacks of TV comedy or possibly TIE might well appeal to those that have always hated the Bard, most commonly as a result of poor teaching methods during their schooldays.
Before the play starts, many will discover that a venue with sightlines blocked by pillars at the best of times has become worse thanks to large white balloons and hanging green tubes, which prevent many from seeing even more of the action.
The first speech is doubly shocking too, delivered through a microphone, thus losing direction and adding to confusion for the knowledgeable, who will naturally be equally confused to be confronted with part of the prologue to Henry V.
That sets the tone for close to three hours that contain much comedy frequently not drawn from the Shakespearean text but a new version, to which dramaturg and lyricist Tanika Gupta's contribution appears significant.
The location moves from Athens to Bankside and Hoxton, while the language uncomfortably veers from Jacobethan to contemporary vernacular. Did Shakespeare really write "Away you ugly bitch" during the fight between the two lovelorn ladies (or not in this case)?
Nor are the characters sacrosanct, as Lucy Thackeray playing Rita Quince leads a team of modern mechanicals all of whom are female bar Ewan Wardrop hamming it up as Nicholas Bottom, while Helena has gender-swapped into Ankur Bahl's camp, American Helenus for a few quick laughs.
The ringmasters are Zubin Varla nobly portraying and Oberon, while Cabaret favourite Meow Meow, one of Miss Rice's many old collaborators (in the ill-fated Umbrellas of Cherbourg) drafted in for the occasion, is oddly cast as a Russian Hippolyta and burlesque Titania.
They send a quartet of lovers into exile where the un-Shakespearean fun starts, peaking as Bottom, with War Horse style ass's head entices Titania, thanks to the efforts of plucky Katy Owen, the most energetic and modern of Pucks doubling as a remarkably unconvincing Egeus.
On the plus side, another Kneehigh friend Stu Barker's compositions are generally easy on the year, though some of the songs break up the tempo of the drama.
Much of the original playwright's comedy gets lost in the athletic hijinks to be replaced by clowning and contemporary illusions, which certainly seemed to please the groundlings.
If this brand of Shakespeare-lite sounds like your bag, it probably is. However, should this review stir up any doubts, steer well clear.
Reviewer: Philip Fisher