A Midsummer Night's Dream
William Shakespeare
Stratford Festival Theatre
Stratford Festival Theatre, Ontario
–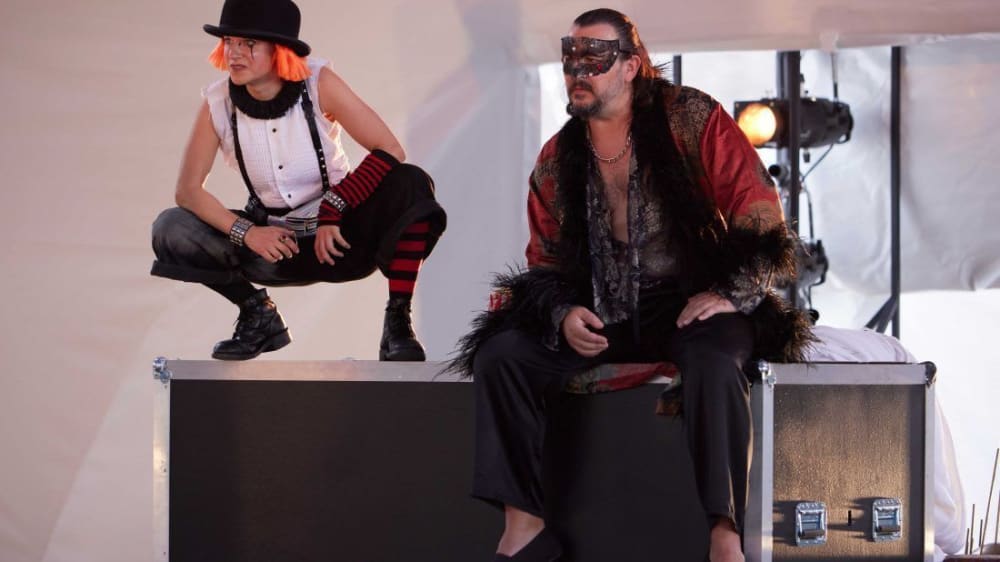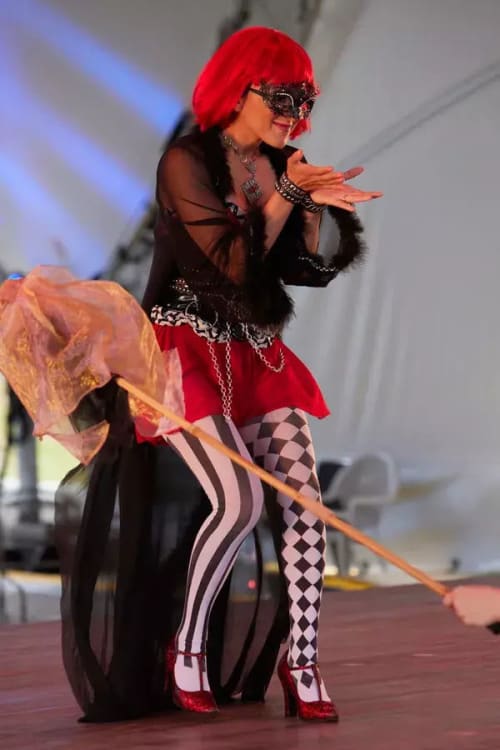 Many readers will have enjoyed a series of very positive reviews about Shakespearean productions from this glorious Canadian company, not to mention the broadcasts.
Following recent relaxations, the company has moved into a new phase, which permits performances to live audiences. However, unlike London theatres, those in Ontario have more conservatively remained outdoors, which must have been a pleasure on the kind of sunny day during which this performance was recorded.
The actors perform in traverse under the open-ended and -sided Festival Theatre Canopy, with the audience enjoying the performance on either side of them, socially distanced and perfectly ventilated. Rather than the full-scale productions of yore, Peter Pasyk has created a cutdown, 90-minute version with a very energetic cast of just eight and no intermission.
This works surprisingly well, thanks to the efforts of a splendid team of actors adept at quick change, versatile performance and with a desire to wring every ounce of humour out of Shakespeare's lines (plus one or two others), although the poetry and pathos occasionally take second place to the frolicking.
The design concept is decidedly modern and striking, exemplified by androgynous Robin Goodfellow played by Trish Lindström wearing a costume that appears to have been heavily influenced by Stanley Kubrick's film adaptation of A Clockwork Orange.
The key plot elements are all there. With so much doubling, things could get confusing, but Lorenzo Savoini's costumes help to reduce any confusion even as innocent lovers portrayed by the quartet of Eva Foote, Jonathan Mason, Amaka Umeh and Micah Woods become manipulators of fairy puppets and then hilarious rude mechanicals.
In this latter role, they are led by André Sills as a larger-than-life Bottom, who threatens to overwhelm all whom he encounters, even Bahareh Yaraghi portraying an especially disdainful Titania, who makes life difficult for Craig Lauzon's Oberon.
To complete the Poor Theatre effect, the crew also makes music on a weird and wonderful selection of percussion instruments, some seemingly invented for the purpose.
Nobody could claim that this production is expensive and polished. Instead, it does exactly what audiences had been yearning for during a barren year when the theatre was closed, it entertains visitors regally and, thanks to economical but cleverly designed camera work, will do exactly the same for those enjoying the virtual version.
Streaming takes place somewhat randomly over 2½ months to early December, so it is worth checking dates in advance.
Reviewer: Philip Fisher