A Midsummer Night's Dream
William Shakespeare
The Factory Company
Tobacco Factory Theatres, Bristol
–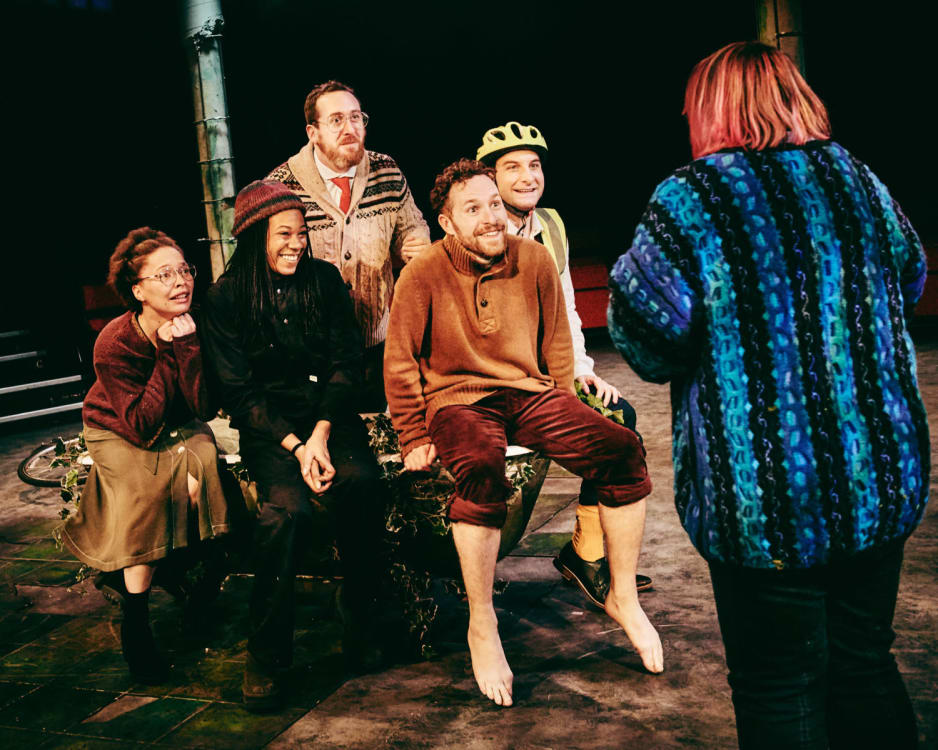 Launching the Tobacco Factory Theatres' 2019 repertory season, A Midsummer Night's Dream brings the shock of the new to this most familiar of Shakespeare's works. The Factory Company's vigorously driven production translates the traditional Athenian setting into a dystopian near-future Britain, re-examining the dynamics of the play's central relationships and bestowing a stripped-back clarity on its interwoven stories.
Director Mike Tweddle, returning after last year's successful inaugural productions of A View from the Bridge and Beautiful Thing, has cleverly updated the relationships between the four lovers with some judicious gender switching. As Lysander becomes Evlyne Oyedokun's impassioned Lysanda, in love with Hermia, it becomes clearer to a modern audience why Egeus might forbid them from marrying. And Joseph Tweedale's sparky Helenus, determined to reclaim the affection of Demetrius, introduces a fluid contemporary edge to the confusion of the foursome's fast-shifting allegiances in the night-time forest.
Nor is Tweddle afraid to push the work's boundaries in terms of its political setting. Anna Reid's design and some haunting original music recreate a dark and often frightening place where, in disobeying her father's wishes, Hermia genuinely fears for her life. The tension between Charleen Qwaye's brooding Hippolyta and Luca Thompson's dictatorial Theseus introduces an intriguing power play and the pair's additional take on Titania and Oberon is equally ferocious, creating a sexual chemistry that is lacking in some of the other couplings.
The flip-side of this bleak realpolitik energy, however, is that some of the play's evocative, dreamlike quality seeps away. Rather than magical, the forest becomes an earthy and sinister setting, where Kim Heron's sprightly Puck deploys her mischief-making with a menacing edge. Titania's fairy attendants are more akin to a subversive tribe, comedically surly rather than enchanting in their endeavours. At times, this can lead to a feeling of imbalance between the narrative's separate strands, that there is not enough lightness in the dark.
That said, the comedy is exceptionally well crafted. The fairies' effortful transportation of Titania around the forest in a roll-top bath on a pallet lifter and Oberon's distinctive spell-casting style are nice touches. The Rude Mechanicals are a convincingly raggle-taggle amdram bunch, their chaotic rehearsals trounced by the final laugh-out-loud performance of Pyramus and Thisbe, complete with inappropriate costumes and a farcical wall.
Heather Williams is an engagingly boisterous and playful buffoon as Bottom, both with and without her ass's ears. Meanwhile, Dan Wheeler's Flute, arriving at rehearsals by bike in a yellow high-viz jacket and helmet, painfully gabbling his lines before discovering an affinity for playing in drag, is particularly affecting.
The multi-rolling cast is solid throughout, though the heightened energy means that some verse-speaking rhythm is inevitably lost in the momentum. While not everything may quite come off, the vision is to be applauded; this is a bold and refreshing take on Shakespeare's classic tale that questions and entertains in equal measure.
Reviewer: Claire Hayes