A Murder Is Announced
Agatha Christie
Ian Dickens Productions
Derby Theatre
–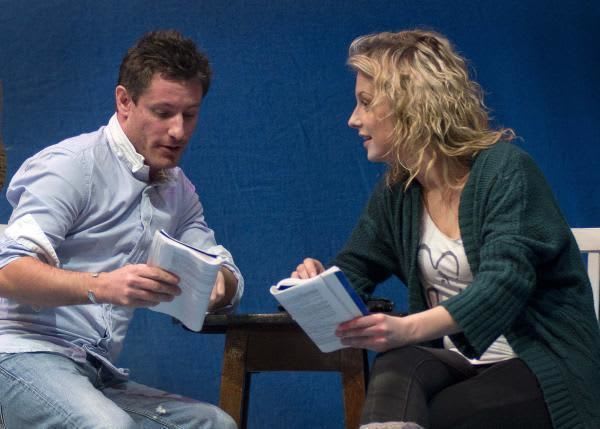 Thirty-seven years after the death of the Queen of Crime, interest in Agatha Christie is as fervent as ever.
Television and film adaptations of her novels can be found regularly on satellite channels while theatre producers of professional as well as amateur productions turn to her works with increasing regularity.
This is often despite the stereotypical characters, upper-class settings and conventional manners which abound in the genre known as cosy crime.
Christie's storytelling, plotlines and situations mean she has been able to attract fans of all ages across differing generations.
Her complicated classic A Murder Is Announced features a notice appearing in the Chipping Cleghorn Gazette revealing that a murder will take place at Little Paddocks on a certain date and at a particular time.
This is news to Letitia Blacklock, the owner of Little Paddocks. She has no idea what the notice means and nor do her guests—some of whom turn up unexpectedly after reading the paper. They are intrigued because "nothing happens" in Chipping Cleghorn.
Most of the individuals who are newcomers to the village aren't what they appear to be and suspicions begin to fall on everyone when a second murder takes place.
Vastly experienced company Ian Dickens Productions is taking A Murder Is Announced on a short tour and has assembled an accomplished cast. But the main problem with Ian Dickens's and David North's direction is a lack of consistency in the main characters. One underplays her role while two others are over the top.
Geraldine Newman has the unenviable task of portraying possibly Christie's best-known sleuth Miss Marple. She comes over as slightly dotty and low-key, unlike the approach adopted by actresses such as Joan Hickson, Geraldine McEwan and Julia McKenzie on television. That gives the production less warmth than you would normally expect from a Miss Marple whodunnit.
In contrast Claire Fisher as Letitia Blacklock's intellectually challenged companion Bunny and Julia Main as foreign servant Mitzi are melodramatic and exaggerated in their manners and speech.
This gives a clichéd rather than comedic effect and detracts from excellent performances from some of the other members of the cast who deftly bring out the humour in the script.
Katy Manning is impressive as Letitia, giving few glimpses of her real involvement in the murders until everything is resolved at the end.
Dean Gaffney who was involved in a car crash after Wednesday's performance, is solid as Patrick Simmons, as is Gemma Bissix as his sister Julia. Both successfully mask their real intentions throughout.
John D Collins is superb as authoritative, tenacious Inspector Craddock who uncharacteristically almost jumps for joy when his unorthodox methods result in uncovering the truth.
There's plenty of pace while a functional set realistically evokes a 1950s cottage in which two rooms have been knocked into one.
This presentation of A Murder Is Announced has a lot going for it: there are commendable displays from several actors and Agatha Christie herself would admire the way the audience is kept guessing right until the end. It's just a pity that the directors chose to portray three of the characters in such a strange light.
Reviewer: Steve Orme