A Murder Is Announced
Agatha Christie adapted for the stage by Leslie Darbon
Ian Dickens Productions
The Haymarket Basingstoke
–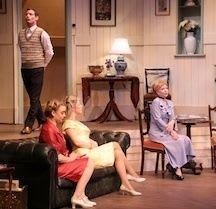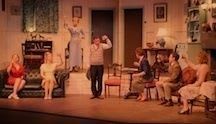 Ian Dickens Productions has become a regular visiting theatre company to perform at The Haymarket in Basingstoke and continually produce high quality work of mainly modern theatre such as Alan Ayckbourn's Season's Greetings.
This time it's Agatha Christie's A Murder is Announced that is lovingly brought to the stage and skilfully directed by Ian Dickens and David North who are blessed with a talented cast.
The scene is set with period music from the likes of the Sydney Torch Orchestra playing "Sleepy Lagoon", better known as the theme tune to the Radio 4 programme Desert Island Discs.
The curtains open to reveal the quaint country cottage of Little Paddocks with white panelled walls, wood burning stove and dressers filled with twee nick knacks.
It's the morning of Friday the 13th in the village of Chipping Clegthorn where an advertisement has appeared in the local paper announcing that a murder will take place at 6:30PM in Little Paddocks much to the consternation of the occupants, guests and visitors of this otherwise sleepy hamlet.
Was this a hoax or practical joke or something far more sinister? What follows is a thrilling whodunit, filled with false trails, hidden identities, lies and more twists and turns than a roller coaster ride.
Katy Manning is superb as Lititia Blacklock, the matriarch owner of the house which life-long friend and rather befuddled obsessive companion Bunny, a sterling performance by Claire Fisher, share together.
Also staying is Lettie's nephew, the charming yet smarmy Patrick Simmons (Dean Gaffney), best known for his eleven years as Robbie Jackson in Eastenders, and her niece, the cynical Julia Simmons (Gemma Bissix) who played Clare Devine in Hollyoaks. Completing the guests is the young widow Phillipa Haymes (Poppy Meadows).
Not forgetting the eccentric amateur-sleuth Miss Marple, a beautifully-crafted performance by Geraldine Newman.
Looking after this disparate group is the volatile foreign maid and cook Mitzi, the delightful Julia Main who's cooking always has a 'secret' ingredient.
As the appointed hour approaches, curious neighbours Mrs Swettenham (Ingrid Evans) and her churlish son Edmund (Mark Martin) arrive and they expectantly wait for the clock to strike.
Bang on cue, the lights flash on and off and then there is darkness whilst we hear three shots. When the lights come on we discover Rudi Scherz (Oliver Blagden) dead on the floor.
Enter the incisive Inspector Craddock, convincingly played by John D Collins, who believes that someone was really out to kill Lottie.
His investigation of the murder explores the social niceties of the era when doors were rarely locked and legacies appeared in wills making you a recipient of a fortune, but he would rather be watching the local football match than trying to solve this puzzle.
Fussing busybody Miss Marple is the thorn in his side, who, when asked whether she, "would like to be a policeman?" replied, "Oh yes but I wasn't tall enough." Classic Agatha Christie.
The dénouement comes as an unexpected surprise and the real murderer was…. well how could I give it away?
Reviewer: Robin Strapp