A Picture of Autumn
N C Hunter
Mint Theater
Mint Theater at the Beckett Theater at Theater Row, New York
–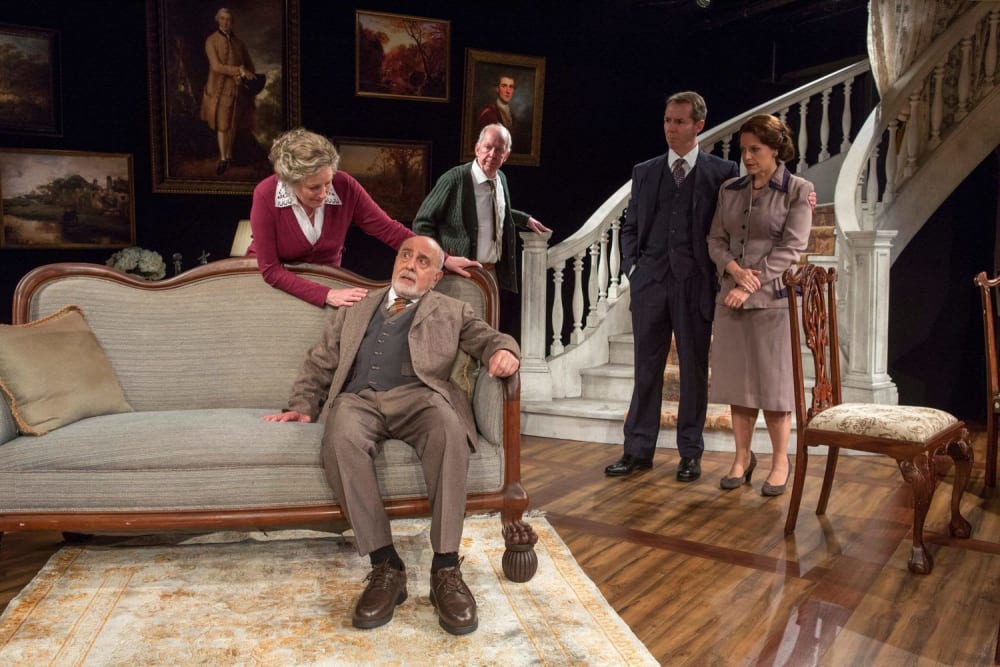 In some ways, watching and enjoying Mint Theater's excellent Silver Lining season of revivals can be depressing as it is a cruel reminder that playwrights who were popular only a couple of generations ago can completely disappear from view.
Regrettably, even in his home country, there are very few theatre aficionados today who will be familiar with the works of N C Hunter, at one time considered to be an "English Chekhov". Judging by Gus Kaikonnen's lovely 2013 stage production of A Picture of Autumn, we are all missing out on much pleasure due to the neglect of his canon.
To be fair, a well-made play first and last seen in 1951 and set amongst the minor nobility, struggling to keep up their 18-bedroom, 16th century West Country manor house, not to mention the rolling acres outside, will undoubtedly seem a little old-fashioned as we struggle through a pandemic. However, there is nothing wrong with a little nostalgia, let alone good writing.
The Chekhov allusion is certainly appropriate in this case. The senior generation of this family, Sir Charles and Lady Margaret Denham, respectively portrayed by Jonathan Hogan and Jill Tanner, are old, tired and short of funds.
One son, Paul Niebank's Robert, is a shouting, pompous colonial desperate to sell the family house to the government so that it can become one of the "symbols of the new Britain". The other is a rakish war hero who cannot settle down and is friendlier with sister-in-law Elizabeth than her very proper husband might like to imagine.
In addition to the owners, the household comprises a mad old Irish nurse, delightfully portrayed by Barbara Eda-Young, and 81-year-old Uncle Harry, a bit of a character splendidly brought to life by George Morfogen, as well as a highly respectable step-granddaughter Felicity. There is even a shotgun and a dead bird (pigeon not seagull)!
The plot contains an air of mystery, as Felicity, played by Helen Cespedes, is the spitting image of Harry's wife, who had died decades before at the tender age of 22—a coincidence or something more concerning?
A Picture of Autumn may indisputably be Chekhovian but it is rather more overtly a comedy than the works of the master. It is filled with memorable characters and is a joy to behold thanks to a cleverly concocted mixture of wisdom, wistfulness and humour.
Yet again, viewers should be grateful to Jonathan Bank and Mint Theater for bringing back into the public domain an excellent playwright who might otherwise have been forgotten forever.
Mint Theater has been a consistent star performer during these trying times with an exciting programme lined up for the first half of 2021. However, in order to continue the company needs support so if you get a chance to watch yet another worthy revival, do think about making a contribution to what is a very worthy cause.
Reviewer: Philip Fisher