A Prayer For Wings
Sean Mathias
Swansea Grand Theatre / Sean Mathias
Volcano Theatre, Swansea
–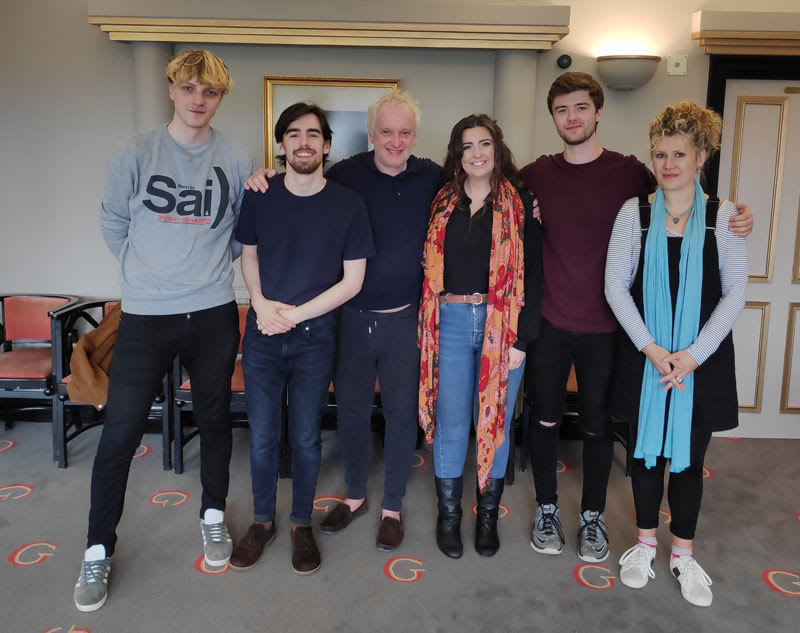 A world-renowned artist returns to his home town after many years, and comes face to face with the ghost of his former self…
This isn't the plot of the play, it's what's actually happened. The artist is Sean Mathias, who, over the past thirty years, has directed numerous award-winning productions in the West End and on Broadway, often in collaboration with Sir Ian McKellen. His former self is a jobbing actor and aspiring writer; one of whose early pieces, A Prayer For Wings, won a Fringe First in Edinburgh in 1985 under the direction of Joan Plowright.
While A Prayer For Wings has been sporadically revived over the years, it has never, until now, received a professional production in the place in which it is set. This presentation, at Volcano, is part of the Grand Theatre's celebration of fifty years of Swansea's city status—although it's hardly a celebratory tale.
It is the story of two spirited women, Llinos Daniel's Mam and her daughter, Rita, played by Alis Wyn Davies. The former Mrs Kelly is a single mother whose health is deteriorating due to multiple sclerosis; Rita is her carer and sole-surviving family member. They live together in a disused church, the ambience for which is perfectly evoked in the cavernous performance space at Volcano (described on its own web site as "grungy", it is more accustomed to hosting experimental and physically orientated work). Lee Newby's open-plan set gives us two bedrooms, a working kitchen and the dining-area where many of the most powerful exchanges take place.
This is because, understandably, Rita is deeply frustrated. Around 20 years old, self-described as "pallid, plump and plain", the deadeningly repetitive and stressful routine of looking after her mother is getting to her. She fantasises about exotic escape and the man of her dreams. In grubby reality, boredom and low self-esteem lead her to succumb to the sexual teasing of the boys she meets while doing errands in town.
Mam is painfully aware that the daughter on whom she is utterly dependent is wasting her life and on the way to running her reputation. Still youthful and prone to bursting into renditions of pop songs from her 1960s adolescence, she is saddened rather than embittered by her illness and her ecclesiastical surroundings lead her to question the roles of God and the Devil in her misfortune.
The third cast-member is Luke Rhodri (in the role first played by Kevin Allen, who was in attendance on press night, as was Sir Ian). He rises admirably to the challenge of playing three of the boys to whom Rita grants her favours (whilst remaining, technically, a virgin)—the timid, wordless Tom; the combative Jim; the too-perfect Phil.
But this play belongs to Daniel and Davies, the alternately (and sometimes simultaneously) affectionate and fractious nature of the mother-daughter relationship portrayed with a recognisable warmth and angry humour. As both writer and director, Matthias oversees a winning chemistry and his lightness of touch ensures that stereotypical South Wales miserablism is side-stepped to the extent that it can be, given the subject matter.
Adam Cork's reflective score and sound effects which call to mind urban wildlife, in conjunction with Robbie Butler's lighting design, point up the eerie murkiness of the mood and setting.
Aside from a few references (supplementary benefits, Rita charging 50p for… well, you had to be there) A Prayer For Wings seems hardly to have dated. It is certainly a work of youthful pessimism, though, and I suspect, having consulted reviews of a previous production (and noted his calmness whilst introducing the press night show), that Mathias has taken the opportunity to do a spot of editing.
Whatever the case, this is a beautifully performed, engagingly ramshackle production of a piece which does not pull its emotional punches.
Reviewer: Othniel Smith