A Queer Christmas
Bethan Marlow
Mess Up The Mess
Kings Arms, Swansea
–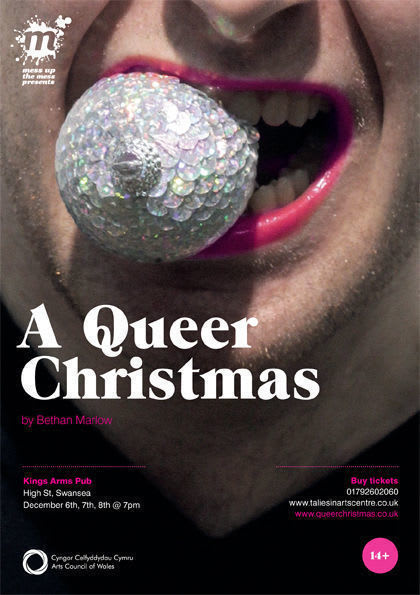 Site-specific theatre is not uncommon in Wales; generally (it seems) happening in locations inaccessible by public transport, and in the depths of winter. And yes, A Queer Christmas takes place on a chill December night, but at least Cardiff theatre-goers were offered a ride in Santa's Party Sleigh to Swansea city centre, where the action unfolded.
Centred around the Kings Arms Tavern in the High Street, the piece, crafted by Bethan Marlow (based on material gathered from interviews and writing workshops), is billed as "a celebration of queer life". Commissioned by Mess Up The Mess, a community-based youth-oriented theatre company, it certainly begins and ends in celebratory mode. The journey, however, is a rocky one.
Those of us on the Party Sleigh (alright, it was actually a bus), were entertained by local comedian and singer Tommy G, who provided jokes, songs, and party games of the kind which one tends to avoid on Mediterranean holidays, but with a gay twist. On arrival in town, we were presented with pink wristbands, welcomed to a wedding party, and treated to a dance troupe rocking out to Elvis Presley's "Bossa Nova Baby".
Two young men—played by Meilir Rhys Williams and Tommy G (again)—are getting married. There is, however, very little drama in a mature, sensible couple making a lifelong commitment to a monogamous relationship in a ceremony which passes off without incident; thus, there are multiple complications.
Secret former lovers figure, as do violently homophobic friends of those lovers, as do loving but unaccepting mothers. There's also an angry lesbian love / lust triangle, and a young man seeking meaning in his first sexual experience.
The action takes place not only outside on the street, but also in a number of indoor spaces, decorated with beautifully inventive art installations, conjuring up surreal versions of a chapel, a tourist information centre and Santa's Grotto. The audience is split into four groups and led from place to place to witness various encounters, monologues and dance pieces; at one especially clever moment, an argument takes place at the junction between two clusters of spectators.
The "wedding" plot in itself is unavoidably soapy, with a somewhat abrupt conclusion; it serves largely as a hook on which to hang the stories of peripheral characters. There are several striking vignettes, such as the lone transgenderists's lament, and a butch-to-femme transformation burlesque moment.
A Queer Christmas is less a celebration of marriage equality than a statement in support of the acceptance of difference. Commitment as a lifestyle choice is celebrated, but so is the freedom to roam, or to be left alone to work things out for oneself.
The cast, largely non-professionals (with the exception of Williams, Peri Thomas and Aled Pedrick, who also directs the core cast), acquit themselves nobly, and while the logistical complexity of the performance inevitably results in sticky moments (the audience waiting around awkwardly for stuff to happen, innocent spectators confused with actors), Marlow and her team are to be congratulated on their ambition, and on their success in providing ethically challenging content whilst maintaining a party atmosphere.
And there was cake, too, which is always good.
Reviewer: Othniel Smith