A Quiet Evening of Dance by William Forsythe
William Forsythe and Brigel Gjoka, Jill Johnson, Christopher Roman, Parvaneh Scharafali, Riley Watts, Rauf "RubberLegz" Yasit, Ander Zabala
Sadler's Wells
–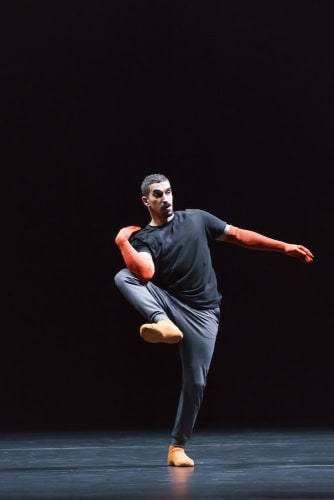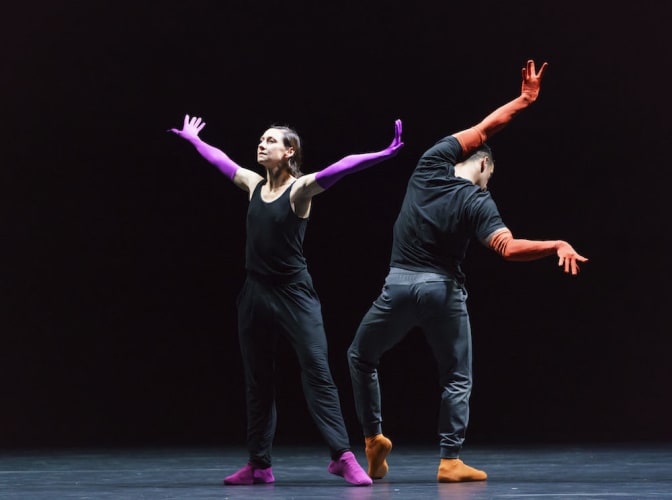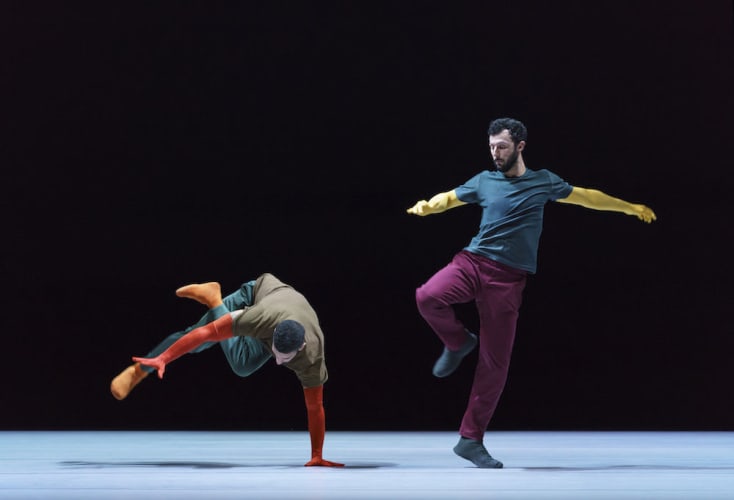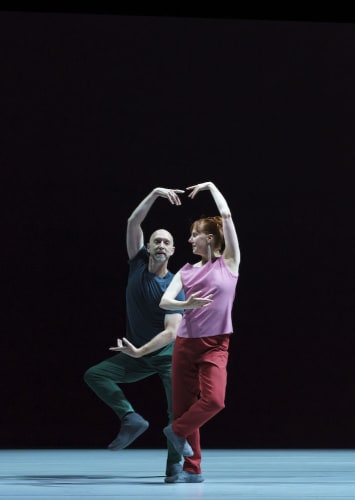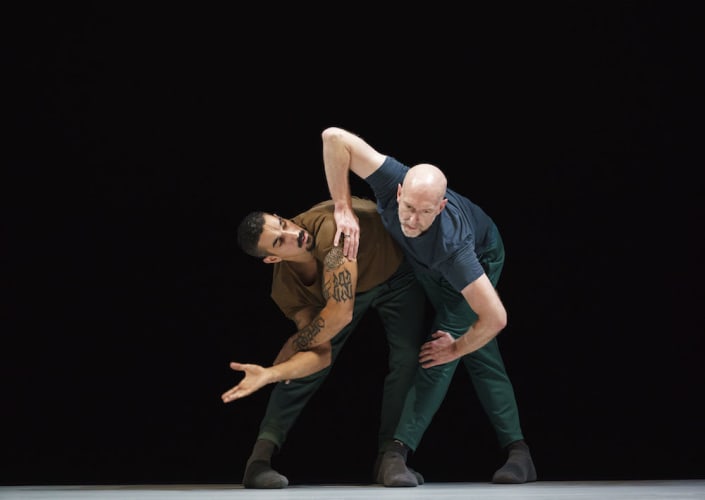 William Forsythe can still surprise his faithful audience—after some forty-five years in the choreography business. When he labels something A Quiet Evening of Dance, one imagines a chamber evening, delicate, elegant—it is that as well—but literally quiet, no music for forty-five minutes? Jean-Philippe Rameau comes as manna from heaven in the second half.
Act 1 Prologue / Catalogue / Epilogue and Dialogue (this last one formerly known as DUO2015) tests us, primes us for the thirty-five minute Act 2 Seventeen / Twenty One. And what a joy, what a relief that music is, there's a release of held breath in the audience, and the applause comes hard, fast and frequent.
No sound, imagine three quarters of an hour with only the breathing of the dancers—as well as the inevitable coughing, seats squeaking and phones vibrating.
Lights stay up, dimmed but up, we are exposed in this lecture hall. A seminar for the avid dancer or committed dance fan; for the general public I'm not so sure. A sense of discomfort—no one dares to clap till the end, and there are in essence four linked pieces in this first half.
Forsythe doesn't make it easy: the evening is a vigorous disquisition on classical ballet. But stay with it and all is revealed. Moves that looked dry and academic without sound are transformed by added music. Merce Cunningham, naturally, springs to mind.
It is all of a piece, but we don't know this until the second act, when the ballet mécanique of the first becomes the courtly dance of the seventeenth century transcribed into the twenty-first (hence the title).
Heads, shoulders, knees and toes—no not really—but that's what this playful Prologue / Catalogue / Epilogue is. In long evening gloves (the better to see the arm parabolas) and casual rehearsal clothes, couples demonstrate and point to body parts, their synchronised and sequential moves creating a rhythmic visual music of their own.
Arms semaphore, a catalogue of moves builds up, could be calisthenics, hips move, bodies tilt, heads nod (I think sacrilegiously of toy nodding dogs), backs arch (so this is where Wayne McGregor found his vocabulary?). Timing and coordination shifts, feet point, ronde de jambe, arms curve, wrists flick, and so on.
A deconstructed classical ballet vocabulary builds. Moves speed up, claps are introduced—there's something music hall about it. This could be fun. We could all do this if we tried. See. Not really—these dancers are drilled to the nth degree.
With the seamless introduction of supple hip-hop dancer, Rauf "RubberLegz" Yasit, who "learnt the rudiments of ballet in five weeks" (Sarah Crompton's invaluable programme interview with Forsythe) into the mix, is Forsythe showing dance's evolution or that all dance is codified from an original matrix?
And where did this matrix come from? Why the court of Louis XIV (Jennifer Homans's book Apollo's Angels Forsythe's challenge and inspiration).
Bathed in Rameau's music, those isolated and isolating moves of act I are a revelation. Music is the symbiotic soul of dance, its carriage and its air. Forsythe has played his audience well, joyfully, wittily. Look again; see better.
The baroque is still with us—gestures and poses, etiquette and sign language—be it in street dance or classical ballet. Space, timing, nuance, structure, organisation…
The body as a vessel of beauty, metaphor, expression, pleasure, and the rest of it… solos, duets, sparring, tying themselves in knots. Experimenting. Yasit certainly adds much to the mix, his floor work something else, but the whole cast is impeccable.
The seven dancers, listed as equal collaborators, are pinpoint perfect, their contact work superb, their musicality and timing faultless. The audience is delighted: cheers and a standing ovation for these demonstrative crotchets and quavers.
Forsythe's career is heavily award-laden—his latest is the Fedora-Van Cleef & Arpels Prize for Ballet 2018. October sees A Quiet Evening of Dance in Belgium and Australia, next February in Athens, April in Luxembourg.
Reviewer: Vera Liber