A Restless Place
Juliana Mensah
Pilot Theatre in association with York Museums Trust
York Castle Museum
–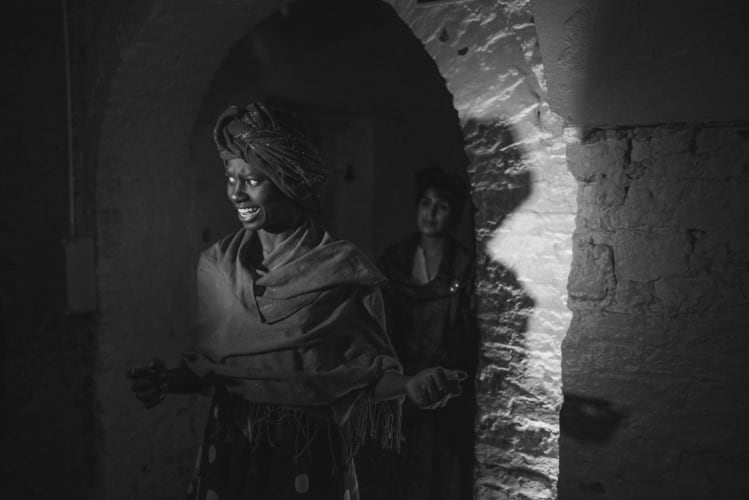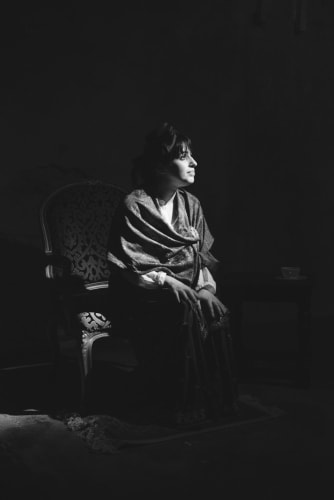 Pilot Theatre continues a great run of form and Katie Posner returns to a solo directing project with a brief, engaging and intriguing piece exploring immigration from a very local perspective.
Writer Juliana Mensah is a human rights strategist, artist and researcher who has been working recently as part of the University of York's Centre for Applied Human Rights.
She bases her text for the piece on a number of interviews with people who have migrated to York for various reasons and from a wide range of locations. Into this verbatim material she has interwoven several more extensively fictionalised scenes, including snippets from folk tales and current stories of migration and refuge of more global resonance.
The production opens with a slightly clumsy dismissal of the recently almost ubiquitous images of political talking heads opining on immigration: a projection of the Prime Minister on some Daily Politics show, sent packing by a peremptory gesture from opening narrator Anansi (Sara Sadeghi).
It's a little heavy-handed, but this early invocation of Cameronesque soundbites certainly helps set a parallel mental strand running alongside the more personal and at first comfortable tales told by the various incomers to York. These characters take turns in narrating their reasons for being here and their often cosily familiar observations of the oddities of the British psyche and the York demographic in particular.
Here, a well-paced and craftily-structured set of monologues and small interactions is ably supported by a strong ensemble, drawn from a mixture of professionals and community performers.
Sadeghi's character Anansi steps back from a direct narratorial role in order to introduce us to these other characters, and to guide us through the imaginatively lit and well-navigated prison cells of the York Castle.
One by one, different individuals step forward to talk directly to us about their cultural background and their experiences of having moved to the city. Papillon (Mustafa Shareef) tells us of his awe at the tower of the York Minster, his determination to learn English and his love of butterflies.
Daniel (Matthew Evans) describes his and his family's complex relationships with nationality: he is Canadian but has a UK passport, making travel simpler for him but contrasting with his wife's and daughter's problematized identification and self-description. Bureaucratic forms and border guards demand simple answers to complex questions, he explains: "How would you describe yourself?" he asks us straight, in one of several gently direct moments of engagement.
Falmata Lawan as Joy, an African newcomer to York and Lucas Smith as South American Edu are further lively and engaging presences. So, too, is Mandy Newby as an American incomer to the city, representing a character more directly involved in the kind of research and humanitarian work Mensah herself and her colleagues undertake, but who also raises questions around her own nationality and self-definition.
Towards the end of the piece, we witness an extended scene between Ana (Lou Broadbent) and Edu. Broadbent (like Sadeghi) is also currently excelling in Pilot's other show Outsiders, and here she delivers a similarly compelling performance of simplicity and depth. She is the actor cast most obviously against her actual age, which is a slightly odd and jarring choice when so much else in the production works with the blurring of boundaries offered by its semi-verbatim format. But this does not detract from the whole cast's strong performances and Posner's assured, clear and imaginative direction.
Though these performers weave in and out of the shadows to talk through these characters' stories and help guide the audience round the space, they do not feel threatening or unexpected: they join our group and share the journey, rather than commanding, driving, or accusing us.
The threatening presence comes from the prison guard (Luke James), who appears at various moments to chivvy Anansi and occasionally more aggressively to intervene in the group dynamic. Some of these incidents might seem dramatically a little flat, ending without real pay-off or sense of conclusion, but in part that is the point. These constraints, divisions and herdings are made to feel arbitrary and indefinite.
There is no righteous anger here, only recurring bouts of fear and incomprehension. And the piece asks us, finally, to consider what we think of as home, and what we're going to do about those who find their notion of such a place transformed, often violently, into a fluid, 'restless' reality.
Reviewer: Mark Love-Smith