A Series of Increasingly Impossible Acts
The Company
Lyric Hammersmith
Northern Stage at King's Hall
–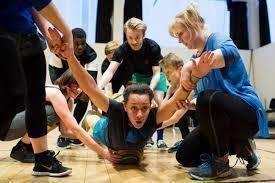 If Mrs Worthington is still having trouble in persuading her daughter (or son) that a career on the stage is a mistake, a trip to King's Hall should do the trick instantly.
There must be a reason why professional actors are willing to submit to the humiliation and physical hardships required by this happening but surely it is only because the alternative is waiting tables or giving up their dreams of the West End or Hollywood in favour of "a proper job".
A Series of Increasingly Impossible Acts is part of the Lyric Hammersmith's Secret Theatre project employing the whole repertory cast.
In fact, if the performance under review is representative, a single member (the unfortunate Leo Bill on this occasion) is drawn from a hat and gets tortured for 70 minutes.
This involves physical attacks, the obligation to undertake impossible and unpleasant tasks and truth or dare style mental interrogation.
If there is any artistic purpose, it is far from obvious, although the last couple of minutes show that, had the rest of the cast helped from the start, both Bill and the audience could have escaped in only a few minutes.
If ever there were an advert for avoiding Secret Theatre with its uncertainty, this is it. Choosing what you want to see will always make far more sense, unless you happen to enjoy sadistic voyeurism.
Reviewer: Philip Fisher