A Small Family Business
Alan Ayckbourn
Olivier Theatre (National)
–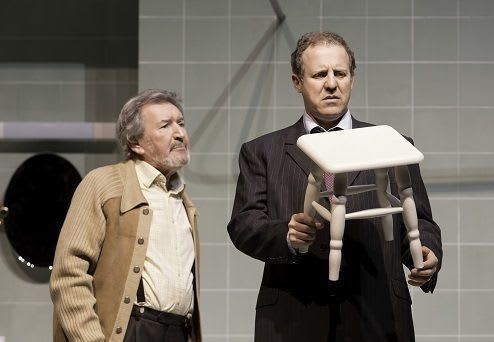 When Nigel Lindsay's Jack rather pompously suggests that he expects "basic trust" from his new cohort of fellow workers, it is not difficult to guess that he may be heading for a fall.
In fact, the Small Family Business that he takes on from elderly father-in-law Ken, an Alzheimer's sufferer touchingly depicted by Gawn Grainger, can smack more of the Mafia than a traditional English furniture distributor enjoying the heyday of Thatcherism and unstoppable capitalist enterprise.
The underlying allegory is easy enough to discern as the plot develops, with Jack's innate honesty rarely proving a match for his more commercial relatives in what develops into a classic Ayckbourn farce.
This modern morality tale, first seen at the National 27 years ago with Michael Gambon (like the playwright now a knight) leading a cast that also included Michael Simkins, who attended the opening night of this production, still has a great deal to offer.
This owes much to a revival expertly directed by tyro Adam Penford, who both built tension and drew laughs expertly with the assistance of a fine cast.
Designer Tim Hatley also plays a significant role in the fun, constructing a house that cannot be far short of life-size and is shared by all of the families, after the interval simultaneously to great comic effect.
The opening is a comedy gem that might have proved hard to live up to but when Sir Alan is on song, his mildly exaggerated middle class nobodies always manage to entertain, while slyly commenting on the society that allows such types to prosper.
Jack is a good man thrown into a world of sharks but at least has the fortune to be married to Debra Gillett's decent Poppy. Their happiness at his new, dynamic role might have been tempered by the knowledge that Ken's lieutenants are about as desirable a family business unit as that of King Lear (coincidentally still part of the Olivier repertory).

The brains tend to lie with the women, who are obliged to support a series of dumb husbands. Of the former grouping, Niky Wardley's tarty Anita is the pick. Not only does she run her own (rough) trade but finds time to assist in an extension of Ken's operation that has made all the familial supernumeraries rich. She also knows how to have fun with an anagrammatical family of sexed-up Italians played by Gerard Monaco & co.
The catalyst for trouble appears in the creepy form of Matthew Cottle playing a greasy, unctuous private eye. He seems torn between nobility and blackmail but, after catching Alice Sykes as Jack's younger daughter Samantha shoplifting toiletries worth £1.87, the former is never his favoured mode of operation.
At the end of 2¾ hours, neither has benefited from the consequences of their meeting, with the lights finally going down on sad Sam, making a pertinent but poignant statement about the dangers of excess.
A Small Family Business still feels timely as yet another politician attempts to escape indictment for her admitted greed while Britain begins to scramble its way out of recession. As such, this broad comedy with a serious underlying message should delight audiences throughout the summer.
For those that are unable to buy tickets or get to the National, it will also be broadcast to more than 500 UK cinemas and more worldwide under the banner of NT Live on 12 June.
Reviewer: Philip Fisher