A Super Happy Story (About Feeling Super Sad)
Jon Brittain; music by Matthew Floyd Jones
Silent Uproar
York Theatre Royal
–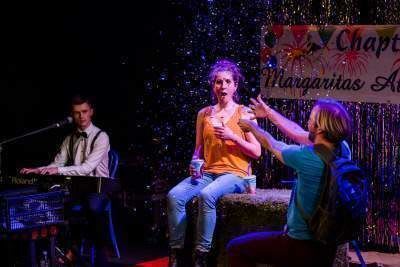 As titles go, A Super Happy Story (About Feeling Super Sad) hits the nail on the head. This comedy musical cabaret dares to look at depression, but does so in a warm, compassionate way that doesn't forget to entertain.
In little over an hour, Sally (Madeleine MacMahon) talks us through her longstanding battle with depression. The only child of absent parents, she begins the show with immense confidence and a desire to change the world. But when she hits 16, she is thrown into turmoil.
Over the course of six chapters, we watch Sally experience a series of highs and lows. At first, she is reluctant to admit her illness, but gradually she comes to accept it and seek medical help. She manages to turn her life around by trading in her job as a charity mugger (or "chugger") for something more high-profile, but her depression resurfaces with near-fatal consequences.
Due to the deeply personal and confessional nature of the show, one might assume that it is based on first-hand experience. However, this is not the case. A Super Happy Story is in fact the brainchild of playwright Jon Brittain and composer Matthew Floyd Jones.
Jon Brittain has form when it comes to cabaret, having co-written the drag show Margaret Thatcher Queen of Soho, so it's no surprise that A Super Happy Story is so richly funny and entertaining. However, what most impressed me about his writing is the delicate, even-handed way in which he portrays depression and how he manages to combine comedy and tragedy. A Super Happy Story may venture into dark places, but there's always hope and laughter around the corner.
Musician Matthew Floyd also has a background in cabaret: he's one half of the musical comedy duo Frisky and Mannish. His jaunty songs, combined with Brittain's witty lyrics, are huge fun. There's also lively choreography from Jon Beney.
The three performers are all terrific. Madeleine MacMahon does a superb job of charting Sally's emotional journey. At times, she is filled with warmth and exuberance. At other points, the mask descends and she bristles with frustration and self-hatred.
The other two actors, Sophie Clay and Ed Yelland, demonstrate their versatility and considerable comedic chops in a variety of supporting roles. My favourite character, has to be Sally's best friend Toby, a social misfit with a backpack and a penchant for Meatloaf.
A Super Happy Story earned great reviews at the Edinburgh Festival last year where it picked up a Fringe First and it's a pleasure to see it on the road. Sadly, the production's tour is about to come to an end, but hopefully Silent Uproar will revive it at some point in the future.
Reviewer: James Ballands