A Taste of Honey
Shelagh Delaney
National Theatre
The Lowry, Salford
–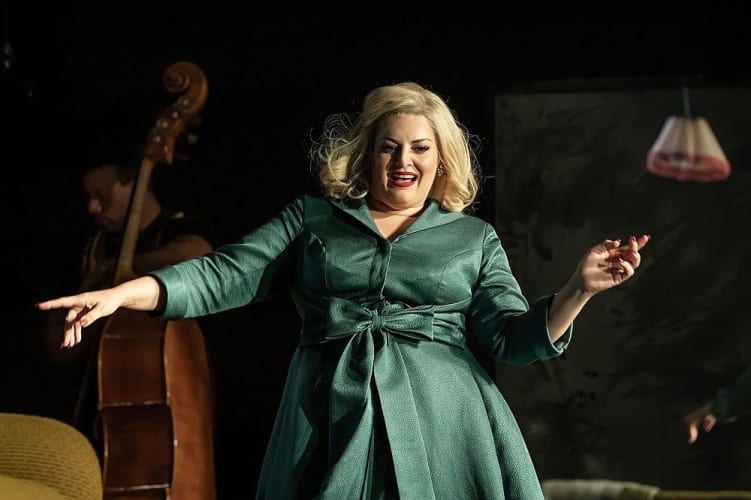 The Lowry must be chuffed with the referential shows currently doing the rounds. Mrs Lowry & Son not only brought the life story of L S Lowry to the cinema screen, it also served as a promotional advertisement for The Lowry. Now The National Theatre uses the venue to open its touring revival of A Taste of Honey—a major play written by Salfordian teenager Shelagh Delaney.
In the late 1950s, Helen (Jodie Prenger) and her teenage daughter Jo (Gemma Dobson) live an itinerant hand-to-mouth existence. If Helen is not yet an alcoholic, it is only a matter of time before the disease takes hold and, not being inclined to work, she is dependent upon men for income. Little love is lost between mother and daughter and Jo has developed a self-destructive attitude that results in her falling pregnant to sailor Jimmie (Durone Stokes) and accepting, as Jimmie is black, her child will be mixed race. Helen blithely leaves her daughter having secured a new boyfriend and the pregnant Jo forms an unlikely relationship with Geoffrey (Stuart Thompson) who is gay. Just as Jo's situation seems to be stabilising, Helen returns.
The frank depiction of life among the disaffected class made A Taste of Honey controversial when first performed. The alienated, 'couldn't give a monkey's' attitude of the two women, the casual approach to sex and unmarried parenthood, a positive gay role model at a time when homosexuality was illegal all attracted comment. Even now, the play retains the power to shock although for different reasons.
Director Bijan Sheibani is merciless in refusing to romanticise the squalid situation. It is impossible to ignore the fact that, while the sex may be consensual and Jo just about over the age of consent, she is still very young to make such a life-changing decision. Gemma Dobson spends the opening scenes of the play dressed in school uniform and playing on swings. Her boyfriend can hardly pretend to be unaware of her age as he meets her coming from school.
The relationship between mother and daughter is not one that is palatable for a contemporary audience. Jodie Prenger plays Helen as someone with no parental instincts or moral code. Prenger is all appetite and concerned only for her own selfish gratification, striding around the stage like a juggernaut and crushing anyone unfortunate enough to get in her way. Gemma Dobson shows the emotional consequences of having a mother so selfish, making Jo defensive and self-destructive, unable to believe in the possibility of a better future. Corrupted by her mother's predatory attitude to sex and bleak outlook on life, Jo even makes a clumsy pass at the obviously uninterested Geoffrey and refuses to consider developing her artistic talents.
The tone of the production does not yet seem to have settled down with the relentless fishwife bawling between the characters in the first act becoming wearying. The more measured tone in act two is something of a relief.
This is a production suggesting rather than showing details. Hildegard Brechtler's set looks half-finished with the cast pushing on scraps of furnishing to suggest the squalid household. But then again the presence throughout of a jazz trio, playing live music in plain view, would be unacceptable in a more realistic environment.
The cast regularly break into well-known torch songs that serve to illustrate some aspect of their character. Durone Stokes's sophisticated, urbane vocals make it even more disturbing that Jimmie would sexually exploit someone as young as Jo. Stuart Thompson's ecstatic rendition of "Mad About the Boy" has the tone of wish fulfilment—Geoffrey imagining life if he could express his sexuality. Jodie Prenger seizes the chance to draw out some humanity from Helen's harsh exterior; her songs have a wistful tone of what might have been had Helen controlled her appetites. But if Helen had a voice like Prenger, she wouldn't have to rely on sleeping around for her income.
Decades after the first staging, A Taste of Honey retains the power to shock, its longevity due to the unforgiving characterisation as much as the bleak situations in this dark and disturbing revival.
Reviewer: David Cunningham