A View from the Bridge
Arthur Miller
Young Vic
Wyndham's Theatre
–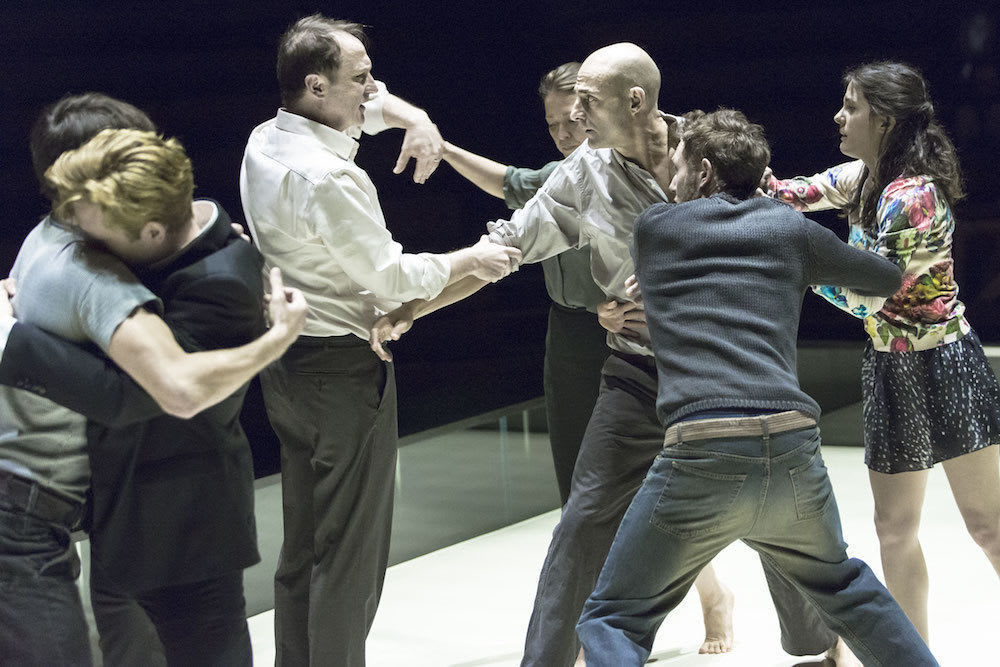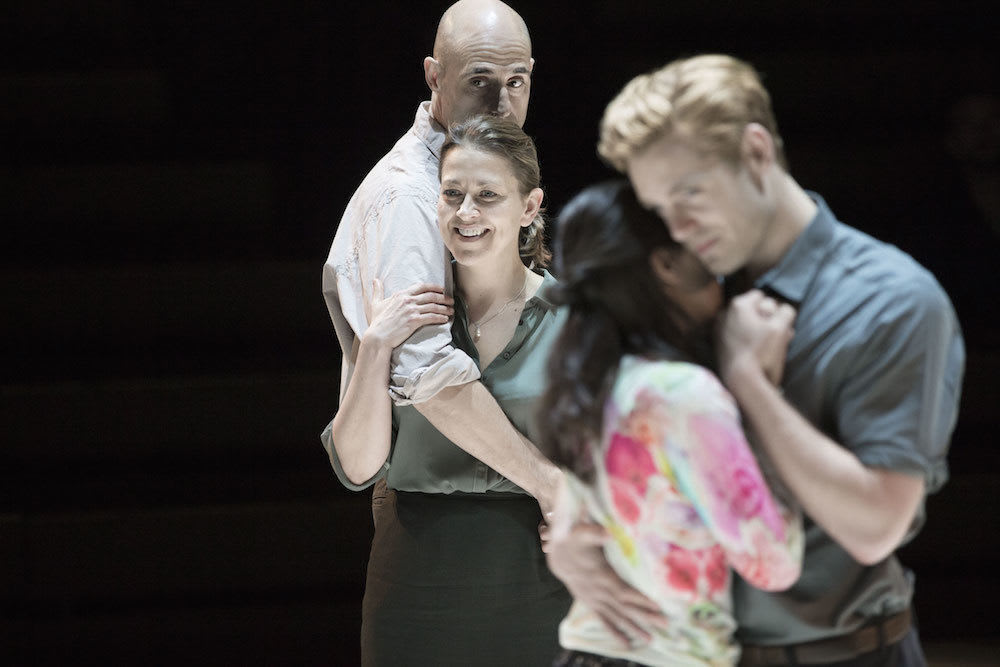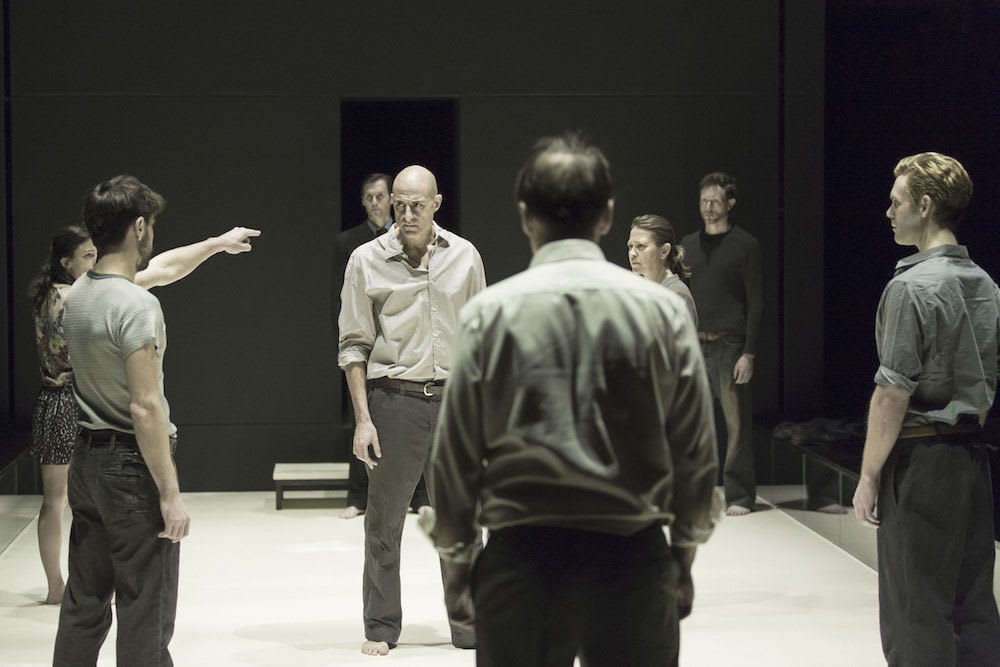 Young Vic's much acclaimed production of Arthur Miller's 1955 A View from the Bridge has been transplanted to the West End with sparse set and seating.
Those of you who would like to recreate the Young Vic seating on three sides experience get a chance to sit either side of the set on stage on what look like Young Vic benches; for the rest of us it is normal proscenium arch seating—here is our view from the bridge…
Or rather down a microscope at these brightly lit petri dish specimens: an impoverished speck of flawed humanity with its weaknesses, its intransigence, its moral codes and man-made laws. Alfieri, lawyer, commentator, narrator, Greek chorus, outsider insider, is our guide and instructor.
A grey canopy, a pulpit canopy, a lid of a box, rises on a furniture free square arena, revealing two men having an after work shower.
Ivo van Hove's production (design and lighting Jan Versweyveld) ends with another shower, a blood red shower, a plague of Egypt, dousing the huddled cast frozen in Pompeian frieze—all implicated in the Greek tragedy that has inexorably taken its course in Red Hook, on the waterfront under Brooklyn Bridge.
Italian-American longshoreman Eddie Carbone and his niece Catherine have a particularly close tactile relationship, unsurprisingly perhaps—orphaned, she has been raised by him and his wife Beatrice as their own.
But Catherine, who is seventeen, behaves like a little girl still, leaping on him, wrapping her legs around him. He unselfconsciously strokes her legs. Beatrice sees the inherent unhealthy danger; Eddie puts it down to natural paternal love, and to wanting the best for her.
The catalyst is the arrival of two relatives from Sicily, illegal immigrants Marco and Rodolpho. Catherine falls for the 'unusual' blond Rodolpho, and Eddie can't take it.
He does what he professes to abhor—he 'snitches' on them. Respect gone, his name gone, what has he to lose? He can't bear to lose Catherine. Rodolpho is not good enough; he's peculiar, not like the other macho waterfront men, not like his strongman brother Marco.
He can sing, he can cook, he can make dresses—stands to reason he must be weird. Yes, the laughs do come in this bleak, austere, barefoot, pared-down, two-hour, no-interval offering of Miller's play, its heart-chilling, but not gut-wrenching, trajectory underscored by Tom Gibbons' sound design of ominous hum, dripping water time piece and by Fauré's Requiem extract.
Beatrice can't stop the inevitable. Neither can Alfieri (Michael Gould) though he sympathises with Eddie—he has daughters too. A father's love must know when not to overstep the line, must know when to let go. This a possessive Eddie tragically cannot do.
Mark Strong, a virile, alpha male specimen still in his prime, bullet-headed, prejudiced, hollow-eyed, gives an intense clenched performance (he'd make a great Kowalski), yet the Judas kisses he plants on Catherine and Rodolpho speak of a sexually parched man—he's been withholding marital duties towards Beatrice for some time—who knows himself and doesn't know himself.
That is his tragedy: the knowing and the not wanting to know. He justifies his actions even when they are against the grain of his generous humanity. Don't we all do that?
Nicola Walker is a quiet Beatrice, inaudible at times, but her face tells its own story. Jealousy and love stalk the household.
Phoebe Fox plays Catherine on the cusp of womanhood. Overprotected, almost a prisoner in the house, it is no surprise she falls for the first young man she encounters. Eddie's demise walks into the house with Marco (Emun Elliott) and Rodolpho (Luke Norris).
A View from the Bridge has no spare flesh on its bare bones. Ivo van Hove eschews realism: the boys from Sicily have the same accents as everyone else. His concept must have no distractions: a grey unforgiving cold morgue-like empty space (Miller did work with Peter Brook on the play in 1956) the play's memento mori.
Small lives; big universal issues. Not least the incidental one of immigration—coming over here stealing our jobs and our women… Nothing changes. Miller anchors in the concrete, in a story once told him by lawyer Vincent Longhi.
Eddie's slow nervous breakdown brings down his hard-won house of cards. And everyone around him: the lid comes down on them all.
The lid will go up on an NT Live broadcast of it, Thursday 26 March 2015.
Reviewer: Vera Liber