A Wilder Christmas
Thornton Wilder
Peccadillo Theater
St Clement's, New York
–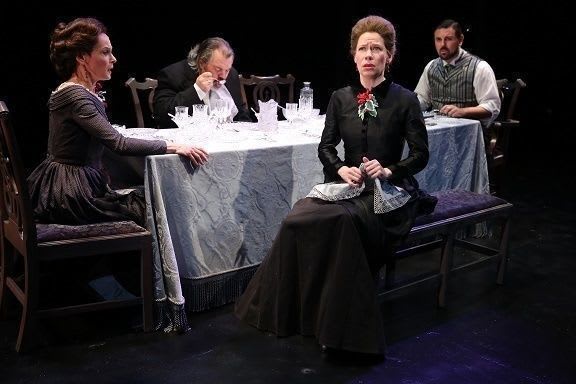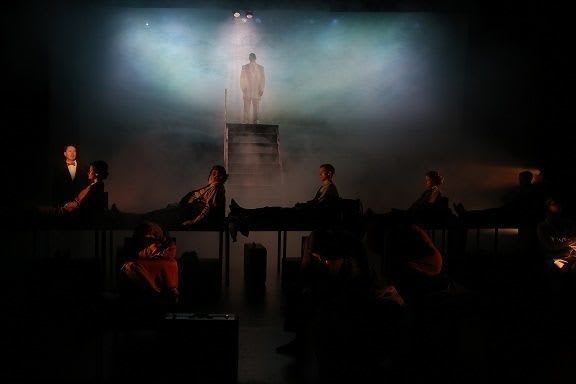 Peccadillo Theater specialises in rediscovering American classics. Its seasonal dual offering comprises two short plays by Thornton Wilder, which together provide a satisfying 90 minutes of drama either side of an interval.
Being this playwright, the pieces are not the typical schmaltz that gets served up elsewhere at this time of year but contemplative works that could easily draw tears.
Members of the large ensemble cast generally take roles (sometimes more than one) in both productions and none lets the side down.
The Long Christmas Dinner
Starting in 1840, The Long Christmas Dinner lasts 90 years rather than the real thing that can feel like that as you have to humour the tedious relatives yet again.
What starts as a happy affair with a newlywed couple, invalid mother and bachelor cousin develops in stages. What makes Artistic Director Dan Wackerman's staging memorable is the manner of advancing through the generations.
One quickly grasps that the two tree-formed arches are symbolic. The leafy one stage right welcomes life, while its barren wintry sibling has more chilling business to conduct.
As the play develops, using freeze-frame techniques to break up short scenes, young become old and replicate the behaviour and catchphrases of their literal predecessors, while new generations keep on rolling in then growing up.
By the end of the sequence, times have moved on from the first Mother Bayard's recollections of the eighteenth century days when their plot was overrun by Indians (sic) to the horrors of industrialisation.
The Long Christmas Dinner is a deeply philosophical and moving work that may not bring too much Christmas cheer but is of the highest quality.
Pullman Car Hiawatha
The second playlet has much in common with the playwright's most popular work, Our Town. In particular, the audience is conducted through proceedings by Michael Sean McGuinness's stage manager/narrator, complete with dry wit and natty red bow tie.
It is set in the eponymous train carriage during a journey (passing through Grover's Corners) to Chicago on 21 December 1930. There, we first witness the minutiae of life aboard a train, even amusingly getting a glimpse into the minds of several occupants.
As they settle for the night though, once again The Grim Reaper makes his presence felt. From that point, Wilder experiments with a number of post-modern techniques to get visitors thinking.
These include lines read by audience members (sadly no stars of the future at the performance under review), the appearance of three spectral figures collectively representing time and an ethereal Archangel, who gives the evening a spiritually hopeful climax.
Pullman Car Hiawatha is more diffuse and not as accessible as its companion piece but complements it well, allowing those present to recognise and reflect on the nature of our existence in the midst of celebrating the pleasures of what is generally regarded as an upbeat time of year.
This double bill has extended to 10 January and is highly recommended.
Reviewer: Philip Fisher