Aalst
Pol Heyvaert, in a new version by Duncan McLean
National Theatre of Scotland
North Edinburgh Arts Centre and touring
(2007)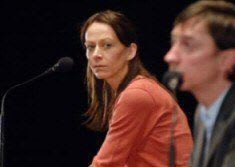 This chilling presentation from the National Theatre of Scotland tells the story of a husband and wife who murder their children in a hotel room.
With a staging somewhat similar to last summer's Tone Clusters at the Traverse - not to mention the similar subject matter of a horiffic murder one can't quite begin to believe actually took place - I was surprised at how engaging this production was.
Playing to a nearly full house in the ultra-deprived Muirhouse area of Edinburgh, the production was powerfully performed by Kate Dickie and David McKay on stage, and Gary Lewis as a disembodied, prosecutorial voice.
The story is based on events that took place in the Belgian town of the same name back in 1999, but with their casual attitude toward work (or a lack of it) and their prevailing sense of entitlement, as well as their refusal to take responsibility for their actions, Cathy and Michael Delaney are just as relevant eight years later as they would have been at the time of their crimes.
Aalst has been making the rounds of Scottish receiving houses, and will land at the Traverse later in May. While it is a highly disturbing work, it is also one worth catching.
Philip Fisher reviewed this production at the Soho Theatre and Peter Lathan in South Shields
Reviewer: Rachel Lynn Brody