Aalst
Pol Heyvaert and Dimitri Verhulst in a new version by Duncan McLean
National Theatre of Scotland
Customs House, South Shields, and touring
(2007)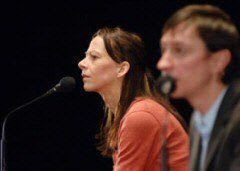 The idea that a play which consists of two people sitting on chairs facing an audience and answering questions from a disemblodied voice could be harrowing seems unbelievable, and that it could be nominated as Best Production in the Critics' Awards for Theatre In Scotland almost preposterous, but both are true of the National Theatre of Scotland's Aalst, now about to end a national tour with five nights at Edinburgh's Traverse Theatre (15th - 19th May).
That it is so harrowing is partly, of course, due to the subject matter, the murder of two children by their parents in a hotel room in the town of Aalst in Belgium, but also in no small measure to the subtly constructed script, the soundscape which is, at times, barely audible and, at others, painfully loud, and the consummate skill of the three actors: Kate Dickie and David McKay as the parents and Gary Lewis as the voice of the Belgian equivalent of the French juge d'instruction.
Although Aalst uses the techniques of verbatim theatre, it does not work in the same way as the kind of productions we have come to expect from, for example, the Tricycle in Kilburn, probably the UK's foremost practitioner of this kind of theatre. To go into greater detail would be to give away something rather important, so I'll not go any further, except to say that what seems like unnecessary repetition as the play proceeds is shockingly revealed not to be what it seems, adding immeasurably to the horror of the piece.
Dickie and McKay convincingly capture the essence of their characters. It is tempting to go into a treatise on Antisocial Personality Disorder (sociopathy) here, for they exhibit all the characteristics of the condition, but the basis is, quite simply, that, in spite of the horror of what they did, they are not insane. Indeed, my companion remarked as we left the theatre, "I've met them."
And this, along with the low key presentation, is what makes the piece so compelling - for it is compelling: despite the horror of what you are hearing, you must listen to the end - and so harrowing.
The production will have toured to six Scottish and three English venues by the end of next week, but it is a play that should be seen more widely, both for the light it throws on a problem which bedevils society and because it is such a superb piece of theatre.
Finally, the Customs House is to be congratulated on bringing this fine piece of theatre to South Tyneside.
Rachel Lynn Brody reviewed this production in Edinburgh and Philip Fisher at the Soho Theatre.
Reviewer: Peter Lathan