Abigail's Party
Mike Leigh
Menier Chocolate Factory
–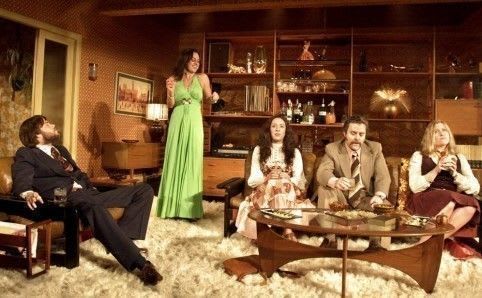 Directors charged with working on revivals of Mike Leigh plays face unusual challenges. The original works are devised with the actors and therefore benefit from a rare degree of spontaneity and realism. Inevitably, when they return to the repertoire, actors are playing parts rather than creating them.
David Grindley overcame this close to a decade ago with his triumphant return of the play to its original home in Hampstead and then the West End.
With this cast, while Lindsay Posner has created an enjoyable new production of a play that is now approaching middle age, it has a tendency to look like a studied re-creation of a period piece.
This obviously owes something to Mike Britton's decor and costumes and the 1970s music. The popular cast too, have a tendency to play for laughs, especially the two leading ladies who each have gratingly eccentric accents.
TV dance favourite Jill Halfpenny plays Beverley, the lynchpin. The play centres on her suburban party, just along the road from 15-year-old Abigail's livelier rave is clearly getting out of hand.
Beverley and husband, Andy Nyman as stressed-out, workaholic estate agent Laurence, have invited over neighbours new and old for a relaxed evening of fun, which becomes anything but.
The main thing that arrivistes Angela and Tony have in common is an extraordinary lack of charisma. Natalie Casey delivers a technical tour de force, barely changing either facial expression or vocal tone at any point in an increasingly comic and traumatic two hours. Eastender Joe Absolom, playing her ex-footballer husband, ensures that Tone is appropriately bland but with a mean streak.
It is left to Susannah Harker, taking the part of Abigail's single mum, the sweetly reasonable Sue, to ground the evening with a performance of under-stated subtlety that really gains perspective when this unexpected tiger finally changes her spots.
By then, marital irritations have boiled over as the alcohol flows, leading to a marvellous, unforgettable ending, perfectly marshalled by Lindsay Posner.
Abigail's Party is a fine play that can be reminiscent of Alan Ayckbourn on song but is still uniquely Mike Leigh in its combination of perceptive social commentary and black humour. As such, this new version will undoubtedly do well and might just follow the well-trodden Menier path to the West End.
Reviewer: Philip Fisher