Abigail's Party
Mike Leigh
Ambassadors Theatre Group, Smith and Brant Theatricals, Tulchin Bartner Productions and Julia Clare Productions
Opera House, Manchester
–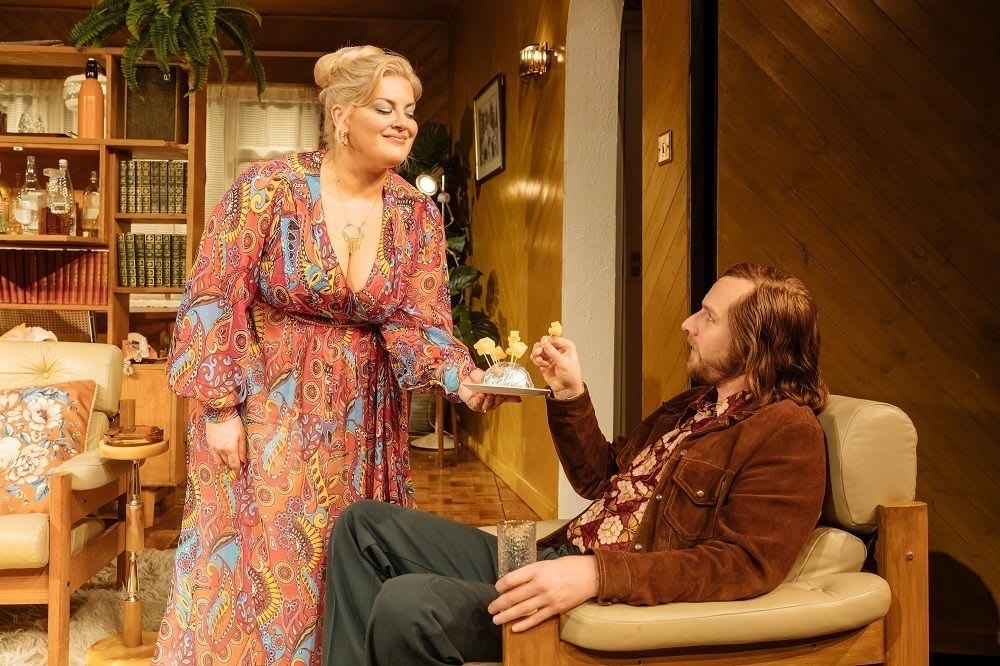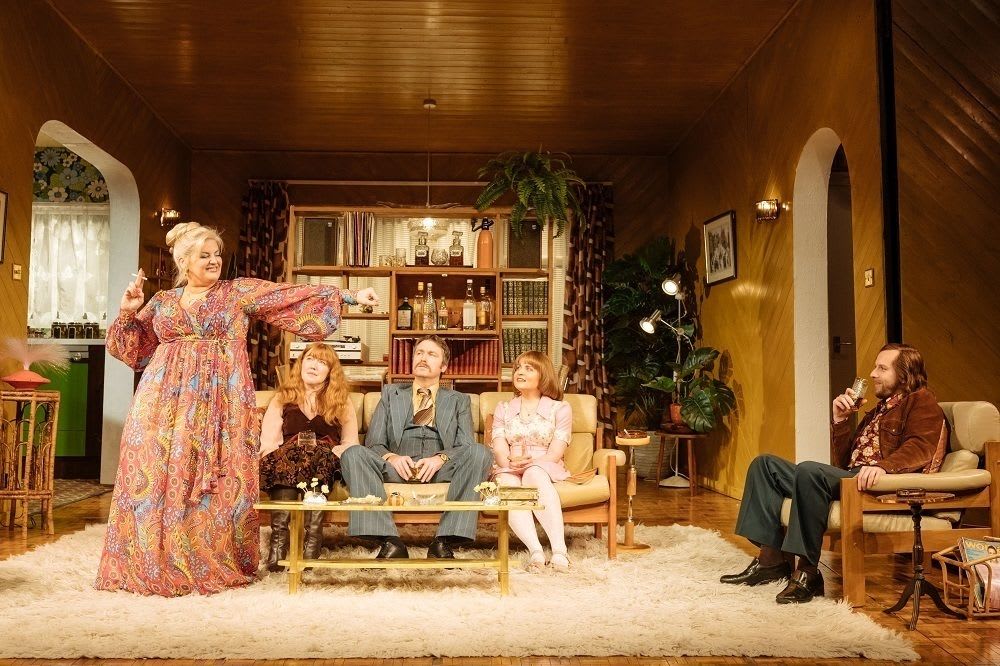 Mike Leigh's Abigail's Party is famous as a television play but it began on, and now returns to, the stage.
Like Godot, the title character never appears in Abigail's Party; in 1977, middle-class housewife Beverly (Jodie Prenger) faces her own irrelevance. Without a job or vocation, Beverley lacks a sense of purpose and is dependent upon her estate agent husband Lawrence (Daniel Casey) to maintain her affluent, if empty, lifestyle. But Beverley has begun to despise Lawrence and is prone to belittling him in public. Beverley invites new neighbours nurse Angela (Vicky Binns) and her husband computer programmer Tony (Calum Callaghan) for drinks and includes also single mum Sue (Rose Keegan) who has been ordered out of her house so her teenage daughter Abigail can hold her own party. But as alcohol flows, Beverley's predatory behaviour pushes the evening towards conflict.
Abigail's Party is a period play set just before Central Government allowed capitalism to run rampant. Yet there are no overt political statements in the play and Mike Leigh's script is more a reflection on things passing than speculation about the future. The sense of an ending hangs over the play; Beverley's anger may be due to her becoming aware that, as someone without a career or meaningful purpose, she is facing extinction. The play is full of alternatives to Beverley's lifestyle that she lacks the courage or talent to attempt—Sue is a single mother, which was a courageous choice in 1977, and Angela makes a valuable contribution to society as a nurse. Even the brutish Tony is employed in new technology; only Beverley leads a selfish existence.
Janet Bird's set is full of tiny details, such as dimmer switches, lending authenticity to the 1970s setting for the production.
Jodie Prenger plays Beverley as a smug shark—mercilessly moving forward and consuming all in her path. Her voice is almost a character in its own right—coarse and braying—dominating the rest of the cast. It is a crowd pleasing performance but lacks vulnerability; we never really sense the emptiness within the character that might help us understand Beverley's actions. Dressed like a faded flower child and employing a vague ''hello clouds, hello sky'' voice, Rose Keegan plays Sue largely for comic effect. Vicky Binns is a surprisingly assertive Angela so the character becomes close to Beverley's enabler or co-conspirator. With her inability to slow dance, Binns has one of the best comic moments in the play.
Director Sarah Esdaile sets a different tone in each of the two acts. The first act is largely a comedy of manners and of social embarrassment with Beverley's coarse attempts at dominating her guests. The second is much darker and chaotic with scenes of high drama mixing with moments of low comedy—a desperate attempt at resuscitation looks remarkably like a couple having sex. It is a perfect example of how the play can prompt laughter while leaving the audience feeling a little bit uncomfortable and shows how, 40 years after the first production, Abigail's Party remains both amusing and provocative.
Reviewer: David Cunningham