Abigail's Party
Mike Leigh
Theatre Royal Bath, Menier Chocolate Factory Productions
Wyndham Theatre
–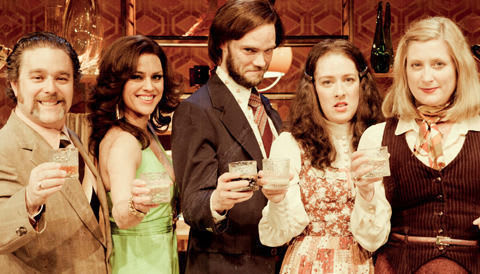 Abigail's Party has transferred to Wyndham Theatre after its success at the Menier Chocolate Factory.
Mike Leigh's classic never fails to entertain and to fascinate and Lindsay Posner's direction has all the right ingredients for a West-End hit.
Abigail's Party was broadcasted on BBC as a TV drama in 1977 after an initial run at the Hampstead Theatre and soon was a success. Mike Leigh's comedy of manners is a criticism of British society of the time, British materialism that shows the decadence of a society that is forgetting its social values. Two couples and a divorcee Susan join in a drinking spree at Beverly and Laurence's while Susan's daughter, Abigail, has a party across the road.
The five characters are all set for a clash of personalities where marital conflicts gradually emerge. Beverly (Jill Halfpenny) is curvy, flirtatious with a domineering personality; Susan (Susannah Harker) is motherly-looking, polite and a bit shy, while Angela (Natalie Casey) is simple and inappropriately outspoken.
The two husbands, estate agent Lawrence (Andy Nyman) and ex-football player Tony (Joe Absolom) cannot be more opposite: Lawrence, nervy and loud; Tony sly in his obtuse silence.
Susan is a bit of an outsider to what becomes a marital battleground: the more they drink, the more respective husband and wife pick on each other.
It is a belligerent game of seduction and despising: Beverly tries to seduce Tony while Lawrence comes in and out of the house and occasionally chats Susan up; Lawrence and Beverly are gradually more and more vicious with each other and Tony's silence uncovers a dark, violent side towards his wife Angela.
The production is energetic with plenty of laughs and gags. Jill Halfpenny as Beverly is larger than life with her loud voice and voluptuous presence but is a bit of a caricature. Natalie Casey as Angela is convincing as the ugly duckling, in her all-covering, old-fashion dress. Yet again she is rather grotesque.
Andy Nyman as Lawrence and Joe Absolon as Tony are more comfortable with their respective roles. It is Susannah Harker who is worthy of praise: her acting suits her role of polite and sensitive spinster or lonely divorcee. Her expressive and controlled acting creates moments of more subtle and interesting comedy than her more brutal and outspoken female counterparts. She is definitely more believable and more gracious.
Lindsay Posner, in fact, skilfully directs Leigh's classic by reproducing the tensions between the characters and communicating to a contemporary audience a social decadence that we can still so much identify with. However, the production is so thick with comedy that some of Leigh's darkness and social critique is covered by a glossy light-hearted humour.
The end, the inevitable pitfall, comes with just a bang and misses out the point a little; the tragic end misses out on the satire that Leigh offered.
It is a still a worthwhile production that translates well to the big West End stage and surely will entertain and amuse large audiences.
Reviewer: Mary Mazzilli