Ablutions

Fellswoop Theatre
Soho Theatre
–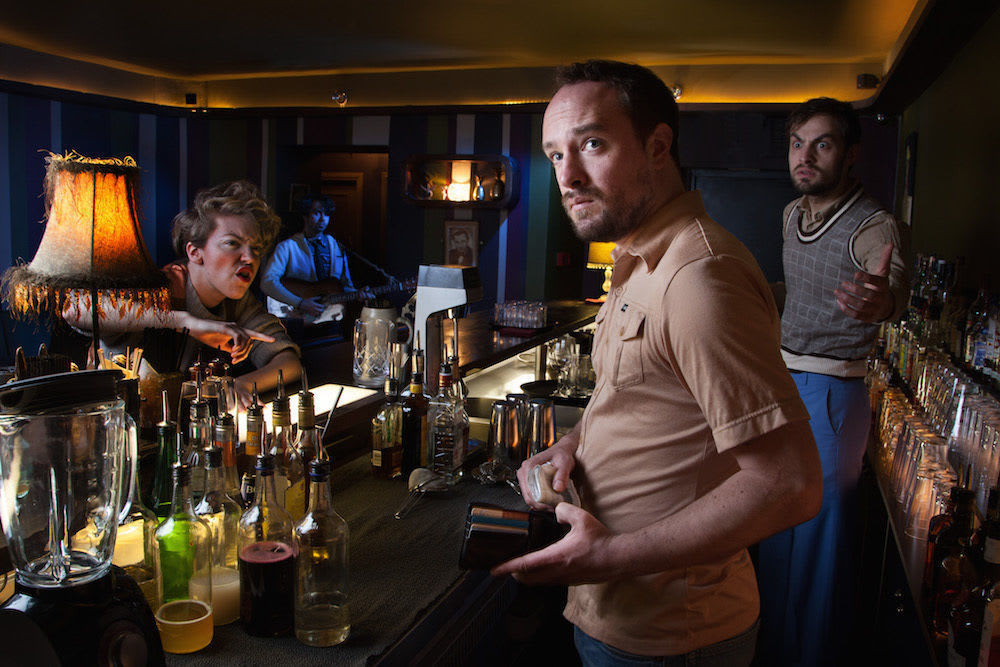 Ablutions by Fellswoop Theatre received rave reviews at 2014 Edinburgh Fringe and is currently touring in various venues across the UK and Wales. I managed to catch up with the show at Soho theatre where it will run till 22 February.
Ablutions is adapted by Patrick deWitt's first novel by the same name. A disillusioned Barman (Eoin Slattery) works in a seedy bar in Los Angeles and struggles to keep afloat between alcoholism and depression till he understands that he needs to leave it all behind: the bar, the alcohol and what comes with all this decadence.
The owner and the manager of the bar are not much better than their customers, a bunch of drunken drug addicts that can only amuse us a little with their quirkiness. The story in its adaptation and with its underlying morality shows the effect of behaving badly, of drinking too much and of caring too little.
However, Barman's solution to move away; his attempt to better himself is not exactly an example of morality and of best behaviour. The question that the story raises is whether it is the environment that makes the man or vice vera. The show and I suspect the novel do not really answer this question.
The one-hour minimalist set that might have worked in one of the cramped Edinburgh Fringe venues feels a bit bare in the cold environment of the Soho Upstairs. No set and no props whatsoever are used in the show and it is up to the performers' abilities to mime the handling of the objects and to engage us in the action.
Fellswoop opted for a musical solution with two guitars being played, one by the composer of the score of the show, Ben Osborn, and one by the cast playing all-male characters, Harry Humberstone. Their music accompanies the action, underlying critical scenes and the mood of the show.
It is indeed the music that lifts the story and brings it all together when coherence is lost. The monologues of Barman that do not always flow and engage and half-way through the show you do not know where it is all going. There are some good, funny moments and some very dark ones but I am not totally taken in by the premise of the story and its interpretation: on one side glorification, on the other a bit of a morality play.
The actors, though, keep up the audience's spirit with their fine performances. Fellswoop artistic director Fiona Mikel, playing all female characters, is a real chameleon, changing into very different characters: the concerned wife, the drunken old lady, the morbid bar-owner etc. She is buzzingly entertaining and highly expressive. Eoin Slattery as Barman is convincing as a confused drunkard and Harry Humberstone manages well his various personas offering the funniest moments of the show.
A bit too much Leaving Las Vegas and Hangover with some picaresque quality, Ablutions can leave you feel cold at times.
Reviewer: Mary Mazzilli