The Absence of Women
Owen McCafferty
Tricycle Theatre, Kilburn
(2011)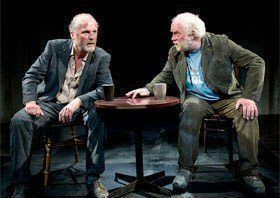 Gerry and Iggy are the kind of men that many of us would rather cross the road than encounter. A pair of dirty, ageing, Belfast-born road diggers, they spend most of their time drunk and rarely have a roof over their heads unless it is a homeless shelter.
Owen McCafferty introduces us to them in such an establishment at the Angel. There, we spend 75 minutes in their company listening to tales of woeful lives and hearing of one encounter each that could have made all the difference.
Stuart Marshall's set speaks volumes. The two men sit at a table on a floor that, just like their lives, seems to be sliding downhill into oblivion. In front rest numerous shovels symbolising both their lives and, before too long, the grave.
This pair do like their gassing about nothing in particular and at times their double act is reminiscent of Vladimir and Estragon in Waiting for Godot. Peter Gowen's Gerry must boast about all the good and bad things that he has, or as often has not, experienced while Iggy, played by Ciaran McIntyre, tries to outdo him rather like those Yorkshiremen in Monty Python.
However, the play is stronger when they become more reflective. Then it moves on to the territory of a different Beckett play, Krapp's Last Tape.
Gerry remembers a meeting with an ordinary shop girl in a London dance hall, Alice O'Connell playing Dotty. She did no more than ask him to dance and beg for a little human compassion and friendship but this was more than the shy Irishman could or would offer.
In Iggy's case, the encounter from the past is rather different. This is with John, played by Francis Mezza, who has not yet graduated from drama school. John had belonged to the same boxing club as Iggy and their friendship burgeoned until he fell upon a secret that forced our anti-hero to leave his home town forever and, 40 years on, remain fearful of returning.
Rachel O'Riordan has the good fortune to be working with a pair of fine actors, who give their all in ensuring that the portrayals are completely convincing.
The Absence of Women, which premiered at the Lyric in Belfast, is the quietest of plays, with no action to speak of. It brings to our attention the plight of millions of homeless nobodies who trudge through life drinking away their sorrows long after hope has disappeared.
Playing until 8 October
Mark Phelan reviewed this production at the Lyric, Belfast
Reviewer: Philip Fisher