Absolute Hell
Rodney Ackland
Lyttelton Theatre (National Theatre)
–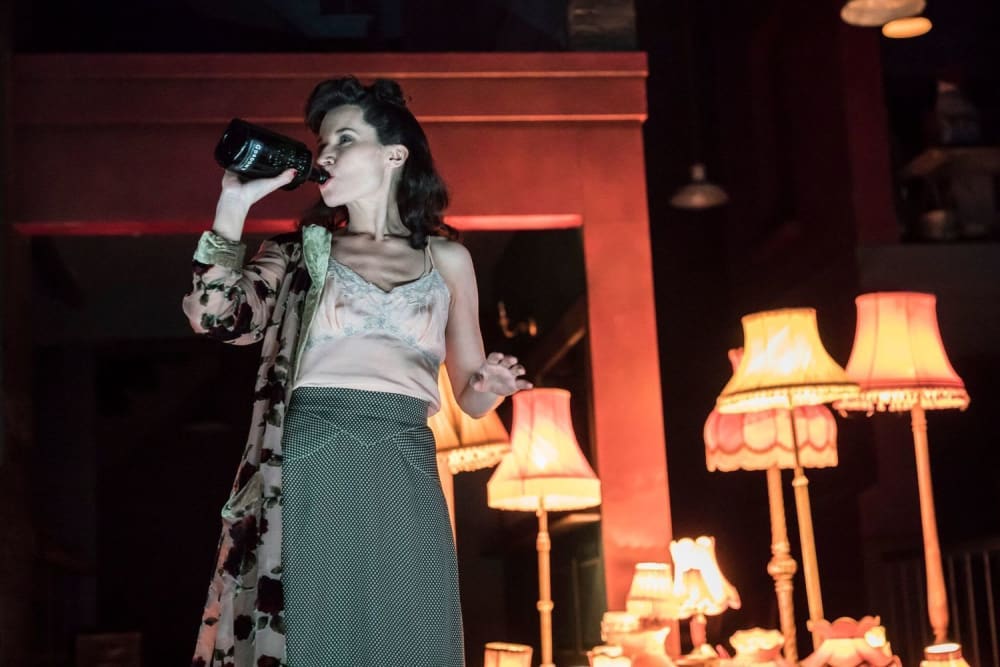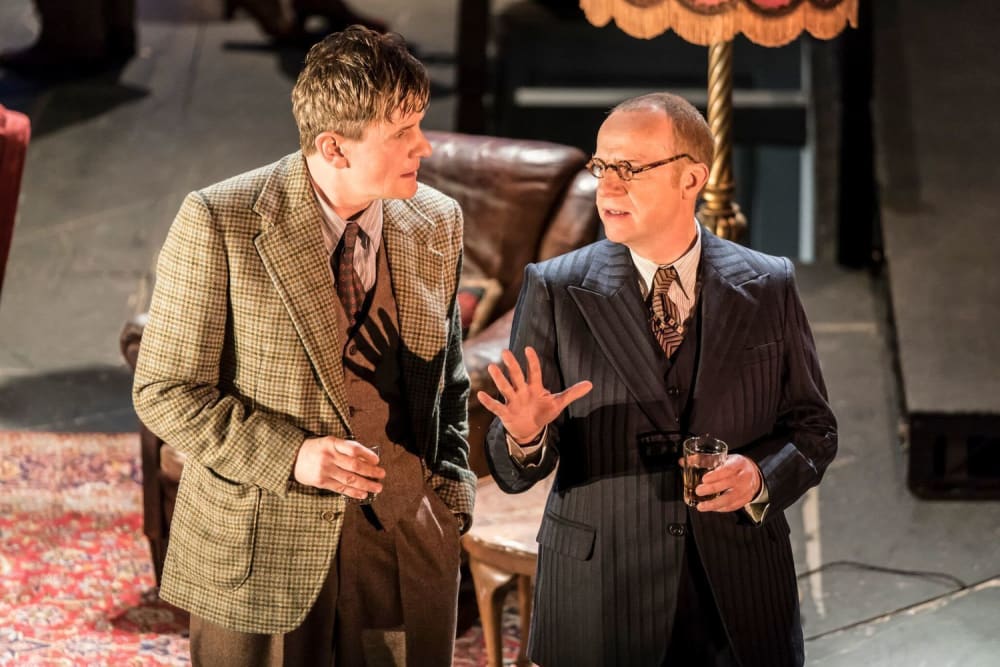 It was hardly a second Bloomsbury or Weimar, but Soho in the second half of the 20th century became a hub for artistic endeavour peopled by a wide selection of touchy artistic types and fuelled by alcohol, sex and drugs.
This is the world that Rodney Ackland portrayed in a brave and controversial three-hour-long piece first produced in 1952. The play then completely disappeared from view until Sam Walters discovered it for the Orange Tree in 1988, inspiring a revival by Anthony Page in the Lyttelton seven years later which starred Dame Judi Dench and Greg Hicks.
Almost quarter of a century on, Joe Hill-Gibbins brings a gigantic, star-studded cast back to the Lyttelton for a new look at a work which looks like nothing more than a depiction of drunken bohemians at weary play but contains hidden depths of social and political commentary.
With the assistance of designer Lizzie Clachan, the director has chosen to create an impressionistic, almost drunken vision of a nation rocked by war and, in 1945, about to vote out Churchill to be replaced by the Labour Party and all that socialism has to offer.
The Vie en Rose is the kind of nightclub that no decent person would consider. It is run by Kate Fleetwood's Christine, careless of the licensing laws, desperate for male companionship but, beneath the surface, deeply faithful to her regulars and more capable of holding triple whiskies by the barrel-load than any of them. Like her club's habitués, Christine is delusional even when sober and far more so after the doors are officially closed and the drinking moves into overdrive.
In what appears to be, at the very least, a biographical work and quite possibly heavily autobiographical, the other central character is Hugh Marriner. Charles Edwards plays a hopeless individual currently working at the Department of Information but keen to get his writing career and financial livelihood back on track via the silver screen, ever fearful that his barely-hidden homosexuality might be outed.
The Vie en Rose is filled with eccentrics, all of whom behave selfishly and badly, though a couple of hunky GIs remain above the worst of the excess.
Jonathan Slinger is hissy Maurice Hussey, perhaps the worst of the lot, a camp film director who treats his assistant like dirt and makes promises to the desperate Hugh that he knows will never be fulfilled. As a result, Hugh struggles to keep his long-term partner Nigel, while constantly trying to paper over cracks as large as those in the walls and ceiling of the club. To add an extra dimension to his woes, for reasons that are not entirely clear but add to the fun, his mother played by Joanna David becomes enamoured of the establishment.
The War and the horrors of the concentration camps also make their presence felt, particularly sobering up the high living, promiscuous Elizabeth skilfully played by Sinéad Matthews.
Over 70 years on, few viewers will be able to identify the models for many of Rodney Ackland's wonderful stage creations, though in the hands of Lloyd Hutchinson, artist Michael might convey something of the aura of Francis Bacon.
At a surface level, Absolute Hell is an amusing depiction of a milieu that is long gone as society tries to take itself far more seriously than in those heady days when the end of the war brought hedonistic celebration and hope for a new future. This changing of the guard is cleverly symbolised by the impending collapse of the club's building as a microcosm of society and, by extension, the solid respectability of a coalition government that was about to be ousted in favour of the brave new world that shaped Britain for the next half-century and more.
With standout performances from Kate Fleetwood, Charles Edwards and Jonathan Slinger, along with fine cameos from a whole team of stars, this revival is highly enjoyable but also thought-provoking and well worth a visit.
Reviewer: Philip Fisher