Absolute Beginners
Based on the novel by Colin MacInnes, adapted by Roy Williams
Lyric, Hammersmith
(2007)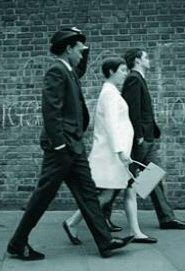 For teenagers in the 1950s, style was everything and this new stage version of a cult book that became an iconic if not entirely successful movie has it in spades (a term used in its derogatory sense too often for comfort in today's egalitarian, politically correct society).
Strangely, the biggest star of the evening is Lizzie Clachan's magnificent set. Made up of building blocks that owe something to both art deco and M.C. Escher, it looks magnificent and reveals hidden depths. It constantly transforms itself and opens out to become everything from a bedroom to a morgue, a night-club and a taxi. It also challenges the actors who at times need the flexibility of mountain goats as they clamber all over it, often way above the ground.
This is not to detract from either Liam Steel's imaginative direction or Roy Williams' script, which makes Colin MacInnes' text into a sometimes poetic delight that uses a new language reminiscent of Damon Runyon and, more particularly, A Clockwork Orange.
Steel is best known for his dance theatre work, especially for DV8. Here, he fuses cool jazz with much busy activity to re-create an era, as we witness the coming of age of 18 year old Marcus, played with streetwise wit by Darren Hart.
As a photographer, he becomes our eyes viewing a race war that has begun to rage between West Indian immigrants and the Teddy Boys who believe that the country is their exclusive possession.
On a domestic level, Marcus also begins to understand the pain of love and by the end, of ageing. The first is courtesy of his (and every "spade" in town's) girl, Joanne Matthews' Suze or to give her the full appellation, Crepe Suzette.
She sets him the task of finding £500 with the threat that, if he fails, she will marry either a Black man or an old one. That financial and romantic quest gives the plot its narrative thread.
Along the route towards love and wealth but more particularly self-knowledge, Marcus observes society with the fresh eye of youth, watching his dad wilfully cuckolded in his own home, Suze passing from man to man and violence becoming prevalent on the streets. The last is exemplified by a classic Steel moment when brawling becomes modern dance.
In support of Hart, the ensemble work well as a team with Tom Stuart shining in his lovely cameo as gay Hoplite, a man who passionately speaks his mind, finely representing glorious youth.
Absolute Beginners takes its audience back to a time both all too like our own and so very different. The Bomb was a fear and Blacks could be insulted on television but teenagers, a relatively new phenomenon, still wanted to try out new experiences. This is a brash, lively production that has few wrong notes and much to entertain.
Reviewer: Philip Fisher