The Acid Test
Anya Reiss
Royal Court Theatre Upstairs
(2011)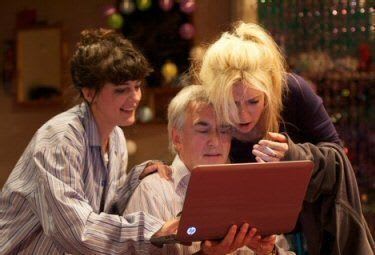 With her debut play, Spur of the Moment, Anya Reiss became a multi award-winning overnight success. It is never easy to follow that kind of acclaim, especially when the writer is still a teenager today.
Pleasingly, Miss Reiss negotiates the traumas of tricky second play syndrome with ease. The Acid Test becomes melodramatic in its final scenes but, until that point, intelligently portrays the difficulties of post-uni life with wit and verisimilitude.
The catalyst for a long dark night of four souls is the dismissal of 50-something Jim from the family home after his wife discovers that Barry the Roofer is a better prospect.
Denis Lawson's Jim is offered sanctuary by their daughter Jess (Lydia Wilson) who shows far more maturity than dad can ever muster. His temporary home is a Paul Wills-designed, holistic flat/set that could easily be sold to Tate Modern as an art installation after the run.
Initially, Jess's flatmates do not know how to react. Both Vanessa Kirby and Phoebe Fox, respectively playing drop dead gorgeous, slutty Dana and insecure Ruth, have their own problems, which help to spice up a troubled but often hilarious evening.
After early wariness, the alcohol soon begins to override everyone's inhibitions. From then on, the two flatmates fall into a strange kind of love with a man who soon comes to be viewed as the coolest pseudo-Dad imaginable.
The only person who sees through the façade is the quiet, thoughtful Jess and her embarrassment and frosty politeness are painfully accurate, as is Jim's embittered response.
His problem is that being a self-destructive wimp, as his daughter constantly observes, Jim can do no more than spout reams of bad advice that he would never dream of acting upon himself. The vicarious consequences aren't pretty but somehow remain credible.
Jess, on the other hand, has her head screwed on more solidly but offends Dana and Ruth by attacking her old man, whom they see as sweet and wronged.
The situations are all pretty predictable. In this single night, the quartet endure either directly or by report two broken relationships, a reconciliation, a lost job following a one-night stand, a failed suicide, unemployment, loneliness and a flood that brings the house down.
The real value of the piece though lies not in the action but the dialogue. The three 21-year-old women have their own language. Like much of their behaviour, this both repels and excites Jim, who in some but not all ways gets to enjoy a classic male fantasy.
What older viewers (25 plus) will learn from The Acid Test is that ladettes may swear like troopers and talk a good game but underlying it all, they are insecure little girls in need of leadership and reassurance at every turn. Their younger counterparts will just recognise themselves or their sisters in the characters.
With the assistance of director Simon Godwin and a really top quality cast, Anya Reiss once again shows a strong ear for dialogue and ability to create convincing characters both from her own generation and her father's.
This suggests that she could have a big future as a playwright, though the young prodigy's skill set is so well suited to the demands of TV producers that her future might well lie in that direction
"The Acid Test" plays until 11 June
Reviewer: Philip Fisher