Carlos Acosta and Guest Artists

Sadler's Wells/London Coliseum
(2009)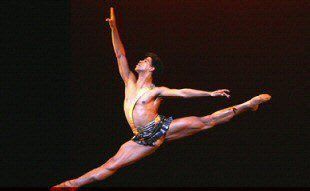 One of the world's most celebrated and loved ballet dancers, Carlos Acosta, 36 years old now, must be conscious of time ticking, and the inevitable waning of powers, but he is not letting the grass grow beneath his feet with the time he has left at the pinnacle of his career.
Earlier this month he presented a mixed bill at the Manchester International Festival (MIF), then he flew to Cuba with the Royal Ballet for a five day programme of, needless to say, sell-out performances in Havana - tickets sold out within minutes for the biggest cultural event there in decades, which he helped to set up - cultural ambassador and go-between par excellence.
And now here he is again at the Coliseum for five performances with friends from around the world - though Nina Kaptsova of the Bolshoi has had to drop out of the Spartacus pas de deux with him. A last minute change, as is the way of the ballet world, to keep it on its toes.
Of course, tickets sold out quickly, which proves the affectionate hold Acosta has on the dance public. The evening's programme is as much a measure of the man as the dancer. I'm not sure that programming is his forte: there is clearly intelligence at work, a warm kind heart, but sentimentality too "I try to reach out and bring an enjoyable evening for every taste and for every age."
Well, he does please the audience, if the number of curtain calls, whistling and cheering are anything to go by, but in trying to please everyone, inclusive and admirable though it is, the evening is a ragbag of gala pieces, some little known, some delightful, some inspiring, and some passing indifferent - twelve in all, of which seven are duets, three solos, one (Canto Vital - very 'Grigorovich') over-choreographed by former Bolshoi dancer Azari Plisetski "to show off the strength and dynamic masculinity of four dancers from the Ballet Nacional de Cuba", and a finale for four couples, Georges Garcia's Majisimo to Massenet's Le Cid, all posturing flamenco dancers.
If the programme is eclectic, the short pieces and excerpts ranging from the classical to the contemporary, from Ashton's exquisite Rhapsody (Rachmaninov's Rhapsody on a Theme of Paganini) to Kim Brandstrup's urban DK60 (great lighting by Chris Davey), by way of Yury Grigorovich's Spartacus, John Neumeier's Othello, and Derek Deane's Summertime, the dancing is marvellous and sincere.
The nine dancers from Hamburg Ballet, ENB, Rambert, Ballet Nacional de Cuba, and the Royal Ballet, are young, enthusiastic, and noteworthy: Roberta Marquez and Steven McRae of the Royal Ballet are outstanding in the Ashton (for a brief fleeting moment I thought I saw Fonteyn). And McRae, promoted to principal only last month, holds his own against the fiery Cubans, Arionel Vargas, Amilcar Moret, and Miguel Altunaga (now with Rambert), and the charisma of Acosta.
McRae is one to watch, as is Miguel Altunaga who choreographed and performed Memoria, a dramatic piece (very Maliphant!) to Murcof's electronic score, made especially for the evening. It made me sit up, in any case. Remember that name: he is tipped for stardom. He has a great sense of presentation and stagecraft - a dynamic performer who also understands the quality of stillness.
Begoña Cao (ENB) and Arionel Vargas (ENB) are beautifully paired in Ben Stevenson's tender Three Preludes (Rachmaninov again) and Deane's Summertime; Othello is memorable for Arvo Pärt's music, as is Ramon Gomes Reis's Over There - for Purcell's glorious Dido's Lament - interpreted with feeling by Florencia Chinellato and Amilcar Moret (both now with Hamburg Ballet). Pieter Symond (Rambert) and Veronica Corveas (Ballet Nacional de Cuba) complete the bill.
With an explosive burst of energy, Acosta dazzles in his Spartacus solo, which draws exclamations and laughs in equal measure from the audience - for his audacious leaps, bravura attack, and for its, out of context, dated hammy Soviet choreography. Acosta dances in just four pieces, but his signature is everywhere. He must be exhausted, though it doesn't show. He gives us his all. A generous spirit
A man of the people, he tries to show that they, the dancers, are ordinary people too, come to do a hard night's work at ballet's coalface. They stroll on to the bare stage, technology on show; stagehands bring on the props, the lights go down, the stage is set. Lighting, music, beautiful strong bodies the magic of dance. Not so ordinary, after all.
The show ends, the backcloth and lights go up, the dancers move back stage, change into comfortable clothes, covering overheated thoroughbred bodies, and saunter off. Good job well done. Acosta humbly thanks the orchestra, and his audience.
But, he will be back at Sadler's Wells this winter (1-5 December) with Apollo and Other Works, "exploring the nature of the male muse in classical ballet". The MIF programme by the look of it - Balanchine's Apollo, Jerome Robbins' A Suite of Dances and Afternoon of a Faun, and a specially commissioned new work, Young Apollo, by Adam Hougland, set to music by Benjamin Britten.
And he will be performing (four guest appearances) with Ballet Nacional de Cuba early next year (30 March - 11 April 2010) at Sadler's Wells Spring Dance at the London Coliseum, where they will bring Swan Lake and Magia de la Danza. This will be the first time Acosta has danced with Ballet Nacional de Cuba in the UK.
Reviewer: Vera Liber