Act One
James Lapine, from the autobiography by Moss Hart
Lincoln Center Theater
Vivian Beaumont Theatre, Lincoln Center Theater, New York
From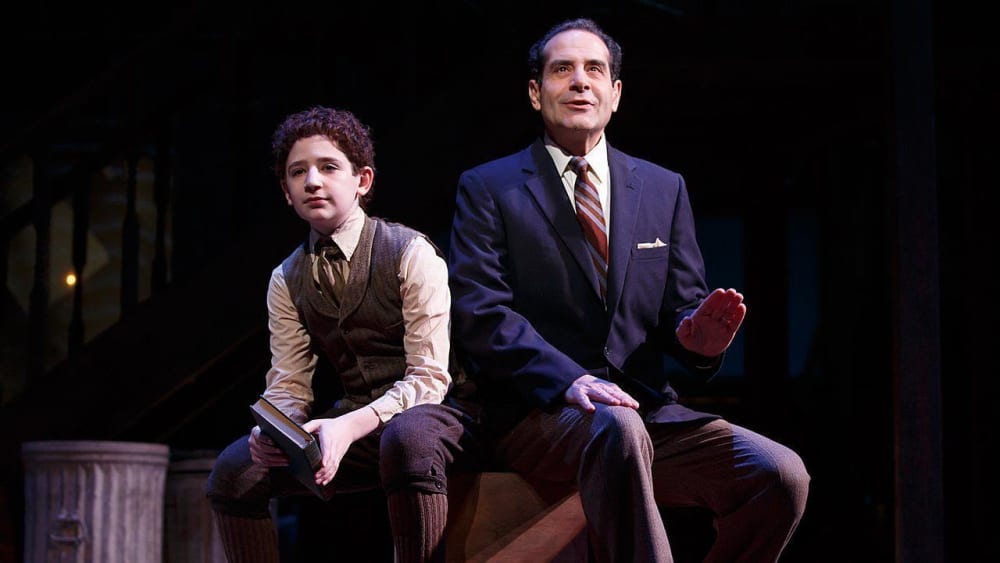 "The theatre is not so much a profession as a disease" is as enticing an opening as anyone could wish to hear. These are the words of one of the Broadway greats, Moss Hart.
James Lapine is best known for writing books for the musicals of Stephen Sondheim. In 2014, he also wrote and directed this affectionate rags to riches piece based on Hart's life as told in his autobiography and realised on stage using three actors to narrate and play the central figure at different ages.
As in all of the best comedies, the pace never lets up, aided by scenic designer Beowulf Boritt's suitably symbolic, ramshackle tenement built on a revolve.
The 2¼-hour evening opens as Matthew Schechter's 11-year-old Moss, son of English immigrants, is enchanted by theatrical tales from Andrea Martin playing his Aunt Kate, an infuriating woman with aristocratic airs, who constantly fights with his impecunious father.
In doing so, the old lady imbues a passion for the theatre into her nephew, which eventually takes over his life.
After an unpleasant career in a fur factory, the young man falls on his feet, becoming secretary to Augustus Pittou, "the King of the one-night stand", a theatrical impresario of almost clichéd seediness.
Now played particularly sensitively by Santino Fontana, the young man becomes so bored by the plays he is obliged to read that he writes one of his own.
Aided by Pittou, he sees The Beloved Bandit produced in an out-of-town try-out heading for Broadway. However, the experiment turns into a disaster of comical proportions that are suitably exaggerated on stage.
After a brief spell as an actor in Eugene O'Neill's The Emperor Jones and little else, followed by an equally short career writing skits for the idle rich in the Catskills, Hart benefits from the tried and trusted maxim that it is not what you know but who you know, as friends from "The Confederacy of Office Boys" pull in some favours on his behalf.
Their success can be measured by the fact that two of Broadway's top producers begin to compete for Once in a Lifetime. More significantly, this engenders the working partnership with the sensitive, eccentric George S Kaufman, hilariously played by the busy Tony Shalhoub, who also takes on the older Moss Hart and his tetchy father.
James Lapine has adapted what was always going to be a sure-fire winner. By embodying the comedic values of Moss Hart into a biographical framework, he gets lots of laughs while also shining a light on Broadway and its immigrant connections in the first half of the last century.
The comedy peaks at a party hosted by the Kaufmans (Andrea Martin doubling as Mrs K) with illustrious guests including Dorothy Parker, Harpo Marx and Edna Ferber.
Anyone with an interest in theatre and the collaborative writing process is guaranteed to enjoy this play, while more general viewers will also love the characterisation, the jokes and the story of a determined poor boy making good.
Act One is the first of Lincoln Center Theater's Broadway Fridays, which are available on YouTube immediately from broadcast.
Reviewer: Philip Fisher