Adam & Eve
Tim Cook
Broken Silence Theatre
Jack Studio Theatre
–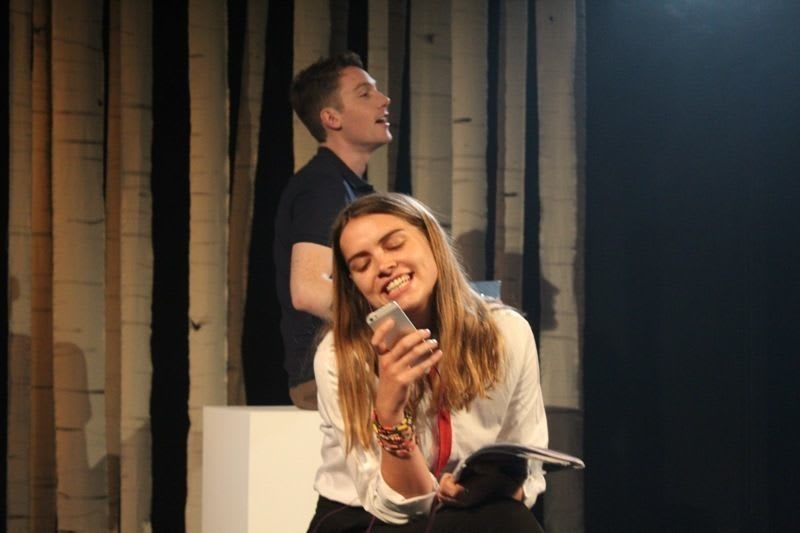 The Adam and Eve of Tim Cook's play are a charmingly naïve, contemporary couple who fall in love, destined to be together.
They move to the country to get on the property ladder and enjoy wedded bliss, albeit that we know from the opening scene that it all ends badly, and the trajectory of the action will be to take us back to that point.
They present as a cute couple, deciding things together, living harmoniously, hoping for children.
Soon, however, English teacher Adam is first barred and then suspended from school following accusations from Nikki, a surly teenager Adam had cause to put in detention for insubordinate behaviour and not doing coursework.
For Eve, now pregnant, "we can get through this, we can get through anything" becomes "there's no smoke without fire" and she is driven to meet Nikki who gives her evidence of her affair with Adam.
Eve now sees Adam through cracked, rose-tinted glass. The trust is gone and the recriminations fly. He is bought out of his share of the house. She becomes a one-parent family. The stay in Paradise is over.
At this point in the plot, Cook's Adam and Eve have followed in the steps of their namesakes, with the twist of modern Adam crunching at the Golden Delicious and taking the fall for the Original Sin.
The enjoyably painful final sting lies with snake in the grass Nikki.
With the self-justification of a petulant teenager who knows she has gone too far, Nikki's assertion that "it might as well be true" robs Eve of the moral high ground. The role reversal has been overturned: Adam is proven innocent, Eve is guilty of losing the faith.
Tim Cook has created a witty and un-moralising Genesis for our times. Consuming from the tree of knowledge has never been so easy and never has it been so easy to fall for the tricks of those who wish to manipulate our opinions.
The relationship between Adam and Eve is well observed by Cook and is portrayed with genuine chemistry by Christopher Adams and Jeannie Dickinson.
The rhythm and timing of their delivery is spot on from the comic repartee of their first meeting to the aching uncertainty of the closing. Cook's skilful writing is in evidence here too.
Paul Macauley's staging prevents the many and swiftly changing scenes from feeling bitty. They run into each other easily, with changes to the sparse set Macauley designed with Vicky Winning not delaying the action.
Cook and Macauley are behind Brighton-based Broken Silence Theatre who brought Adam and Eve for a week to the Jack Studio Theatre. With new work of this quality, I hope they will return to South East London and stay for longer.
Reviewer: Sandra Giorgetti