Adam
Frances Poet
National Theatre of Scotland
Traverse Theatre
–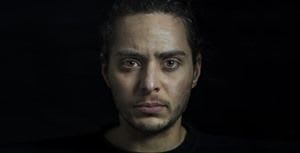 The Traverse crash course in transgender and allied issues continues with Adam, National Theatre of Scotland's companion piece to Eve.
For those who wish to dip a toe into the water without being drowned by this increasingly prevalent topic, this is a perfect taster, although it can be hard to watch, so strong are the underlying emotions.
Adam is an Egyptian in his mid-20s, now residing in Glasgow. However, those words barely scratch the surface of his history.
In Cora Bissett's gripping production, Adam's duality and confusion is conveyed through the medium of having two actors portraying his life, one male Adam, Kashmiry himself making a professional stage debut, the other female, Neshla Caplan.
He was born as his affluent mother's little princess in Alexandria. From earliest days, the little girl wanted to be a boy, which would be hard enough in a western country but impossible in a country governed by a repressive regime.
Childhood difficulties seem like nothing when compared with the difficulties of a young woman working in a fashion store, as uncomfortable with a closeted lesbian colleague as their sleazy male manager.
Escape to Scotland should have helped but, with no concrete evidence of the indignities from back home, the authorities repeatedly denied asylum applications.
Instead, the increasingly desperate youngster began to use home-grown methods of gender reassignment including Internet-acquired hormones and a fearsome knife.
What could have seemed like more of the same in this season soars thanks to great performances, intelligent direction on a cleverly-designed set from Emily James and a well-judged narrative line to keep the story flowing throughout 80 minutes that constantly surprise.
Reviewer: Philip Fisher