Adam Bede
George Eliot, adapted by Geoffrey Beevers
Orange Tree, Richmond
(2005)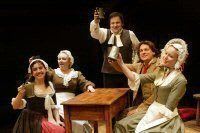 There is a lot to adapting a classic novel and there are many different ways of going about it. Shared Experience favour a very expressionistic style while Sir Andrew Lloyd Webber's recent Woman in White boosted and recreated a few key individuals and set all to music.
Geoffrey Beevers has attempted to emulate the style and rhythm of a lengthy novel and in doing so, has retained its character. Adam Bede is set in Yorkshire in 1799 and, had it been written by a European, it might well have been called Hetty Sorrel. However, we didn't even give our authors female names, let alone follow Flaubert and Tolstoy by naming such novels after their tragic female protagonists.
This adaptation takes a little bit of time to set the scene and get going but once it does so, it tells an all-too-familiar tale in a nice, relaxed style where the narration can be as important as the action.
Adam Bede is the son of a drunken father whose carpentry has been reduced to coffin making. The son, despite being ruggedly handsome in the person of Jack Sandle, is shy and does not want to profess his love to pretty Hetty played by Daisy Ashford.
She has her head turned by young Captain Arthur Donnithorne who all too soon takes advantage and gets her with child. The poor young woman, not knowing what to do, commits infanticide and very quickly a chilling rope is suspended from the Orange Tree's ceiling.
While all of this takes centre stage, some interesting characters are passing by, building the atmosphere and in some cases making a major impression, particularly two young Methodists, Dinah Morris, a preacher (played by Charlotte Asprey) and her admirer, Adam's brother Seth (Christopher Harper).
By the end of three hours, one feels fully immersed in Yorkshire rural life at the beginning of the 19th century. This is as much down to the more mature supporting characters played by Tilly Tremayne and the excellent Peter Forbes, whose high point is playing the irascible schoolmaster, Bartle Massey.
They, like most of the other cast members were obliged to double up their parts and all did so perfectly so that a cast of only six was adequate to play twenty or more major and minor parts.
In a full theatre that began to overheat despite the chill February weather outside, Geoffrey Beevers' adaptation, a winner of a Time Out award in 1991, proved perfect fare for a Richmond audience that probably know their classics better than most.
Reviewer: Philip Fisher