Adding Machine: A Musical
Composed by Joshua Schmidt, libretto by Jason Loewith and Joshua Schmidt, based on the play The Adding Machine by Elmer Rice
Alex Turner in association with SDWC Productions
Finborough Theatre, Earl's Court
–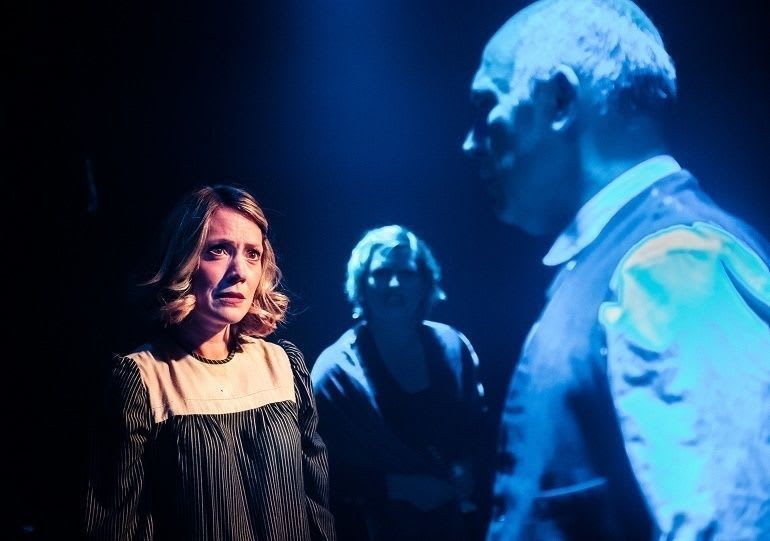 Elmer Rice has long been one of America's more popular playwrights but for whatever reason has never really made it on this side of the pond.
Therefore, this musical from 1923, a tale of love and Luddites adapted from possibly his best-known play and receiving its British première, presents a welcome opportunity to see what we have been missing.
The Adding Machine is a black comedy with overtones of Thornton Wilder. It relates the sad morality tale of Joseph Alessi's Mr Zero, a literal nonentity. This unlikely stage protagonist has spent a quarter-century adding up numbers in a ledger and seems destined to die in harness.
His life is beyond repetitive, hardly helped by a nagging, if tuneful in the hands of Kate Milner-Evans, wife. Zero works incessantly in the hope of a promotion that is never in prospect.
The Silver Jubilee proves to be a watershed as Zero is rubbed out in favour of a mechanical comptometer and responds by doing the same more directly to his uncaring Boss.
To this point, our small-scale hero's only happy memory has been of a work outing during which he brushed hands with Joanna Kirkland's sweet Miss Daisy Dorothea Devore.
After the bad day at work, Zero descends into the horrors of a trial and then a consequential execution. However, what had been a sad indictment of the Great American Dream's shortcomings suddenly breaks into unorthodoxy as Zero emerges into not the seventh circle of Hell but the Elysian Fields (complete with illuminated paddling pool), romance and happiness to none of which he is particularly well-suited, eventually leading to a fantastical finale.
The story is told in just over 90 minutes through the medium of a lively chamber musical performed in traverse.
Rather than big show tunes, the music tends to be minimalist, at times echoing Philip Glass, although there are also jazzy moments and the odd charmingly romantic duet such as "Daisy's Confession".
Although it is low-key, The Adding Machine makes some worthwhile philosophical observations about modern society and its sympathies do not feel dated close to a century after it made its debut.
Director Josh Seymour, the musical trio of piano, (electronic) percussion and synth, plus the well-chosen cast, led by an impassioned performance from Joseph Alessi, give it life and soul and would justify a jaunt down to Earls Court.
Reviewer: Philip Fisher