Adrian Lester and Lolita Chakrabarti: A Working Diary
Adrian Lester and Lolita Chakrabarti
Methuen Drama
Released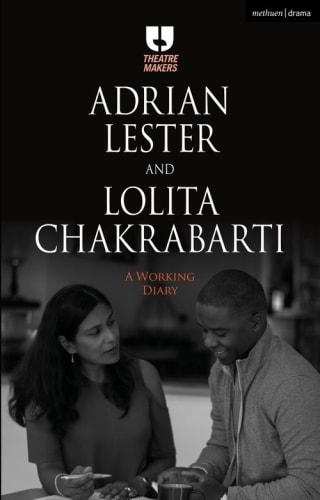 The typical TV viewer or theatregoer probably assumes that those they watch performing rehearse a bit, act a bit and have more free time than they'd like.
This fascinating dual diary shows that, in the cases of Adrian Lester and Lolita Chakrabarti, that picture could not be further from the truth.
To describe the married couple's working lives as busy is a massive understatement and that is without taking into account their efforts to bring up two teenaged daughters and get involved in social and charitable activities.
However, very deliberately, beyond some commentary on (black belt) Lester's passion for Taekwondo, discussions about their personal pursuits remain in the background, although one Parisian scene involving a train cleaner, a gendarme and a selfie is hilarious.
Instead, these diaries, which commence in April 2018 and run for a little over a year, focus on the varied careers of two of Britain's most popular and successful artists.
It quickly becomes apparent that both RADA graduates are incredibly versatile, which is of benefit in an industry where it is all too easy to get sidelined or find yourself resting for worryingly long periods. As they say in the introduction, "our aim is to stay solvent and move forward".
The duo are quite happy to turn their hands to pretty much anything: writing, directing, acting, curating and getting involved in charitable and educational projects seem to come equally easily.
Although each has his or her own preference, they appear to love the variety even if this means that, at times, there are extended absences.
In addition, given the intensity of their working commitments, it is impressive that both manage to devote time to the family, not to mention independently writing these paired diaries.
At any time, each juggles vast numbers of projects, some speculative, others commissioned and the odd one even going into production.
During the year under consideration, the couple worked together on a project for the Old Vic considering the history of the NHS via a series of monologues, a play for Birmingham Rep and prospective screen offerings.
In addition, Lolita Chakrabarti was trying to finalise the film script of their greatest success, Red Velvet, and sell it to Sir Kenneth Branagh. She also acted on both stage and screen while simultaneously developing and attempting to sell a project based on Invisible Cities by Italo Calvino to the Manchester International Festival and also a stage version of Yann Martel's Life of Pi.
Adrian Lester did some directing, he also attempted to bring a film script of the novel Lottery Boy to fruition, while hoping to sell what sounds like a very watchable stage version of Cyrano de Bergerac to producers and acting in a TV series, The Rook. He also had fun performing at the Old Vic's 200th birthday celebrations.
The couple were so busy and successful that they wisely transformed their publicist into a personal manager who could run their working lives and save their sanity.
The hard work and commitment needed to sustain success quickly become apparent, as well as the patience required when good work cannot find a home, which happens to Cyrano, as well as no fewer than six Lolita Chakrabarti scripts at various stages of development and waiting for their moment.
Over and above the full-on, day to day activities, both have of necessity become ardent campaigners, attempting to improve diversity in the arts and beyond, working hard to make a difference and help future generations to avoid the pitfalls put into their way.
There is plenty more activity including the involvement of royalty and the prime minister (of the time).
This book works on a number of levels. It is a breathless chronicle of a year in the mature careers of Adrian Lester and Lolita Chakrabarti. Thanks to refreshing candour, prospective actors, writers and directors can find out what they might be letting themselves in for.
It can also by default be seen as a helpful manual that will prove fascinating to anyone wishing to hone their skills in a number of creative disciplines by reading how experts operate or learn how to juggle impossible numbers of projects without having a nervous breakdown.
Reviewer: Philip Fisher