Affair of the Heart
Michael Billington
Methuen Drama
Released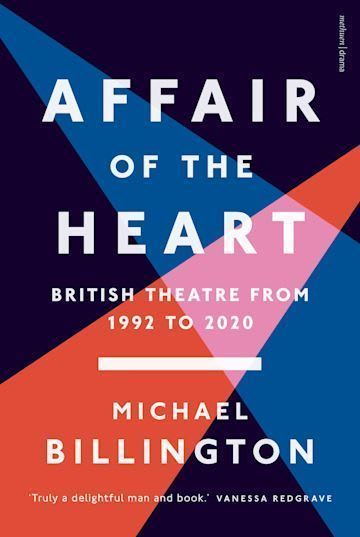 For decades now, there has been little doubt that Michael Billington was primus inter pares when it came to theatre criticism.
Many readers of The Guardian might have felt that the world was changing very much for the worse when the doyen retired at the beginning of 2020. Little did they know, that within a few weeks not only would his reviews have disappeared but also those of everybody else, as theatres went dark.
Those who are still hankering after intelligent, literate reviews that almost always seem to hit the nail on the head will be delighted to learn that Billington has now collected favourite reviews and essays from the period between 1992 and 2020 for their delectation.
Any book that has praise from Vanessa Redgrave on the front cover and Sir Nicholas Hytner on the back is inevitably going to be something special. In many ways, a review of these reviews might almost be redundant, since anyone who loves theatre and has an interest in activities on the British stage over the last three decades will have a good idea of what to expect.
Michael Billington almost always shows good judgement, summarises plots expertly and vividly, while never neglecting to present a picture of what is happening on stage. Pleasingly, there is frequently a vein of wit running through the book, with occasional dry comments that would not be out of place in an Oscar Wilde play. How could anyone resist "Liz Smith as a wizened stage manager sits in the corner gathering laughs and dispensing wisdom like a strange mixture of Irene Handl and Madame Defarge."?
Inevitably, with 4,000-5,000 reviews to choose from, almost all of those in the book are positive, although, somewhat mischievously, he does include the occasional dud. Most come from the West End but there is a good election from the Fringe and the provinces too.
Having mentioned Wilde, one of the highlights is a dual review that compares productions of The Importance of Being Earnest with Private Lives. Despite the fact that Billington does not believe that spoilers spoil reviews, this critic will allow readers to have the pleasure of discovering for themselves which iconic comedy of manners wins the battle.
For the most part, every significant new play and large-scale production seems to have found its way into the book, though each of us will probably find the old inexplicable lacuna from our personal favourites.
The publicity will inevitably centre on the original negative review of Sara Kane's Blasted. Not only can we read a review that its writer now bravely accepts may have been misjudged but also letters to his editor from some theatrical heavyweights including Caryl Churchill and David Greig pointing out this fact.
In addition to the reviews, which run from Angels in America and Faith Healer in 1992 right up to the Fleabag, A Very Expensive Poison and the new, Biafran version of Three Sisters at the National by Inua Ellams at the end of 2019, there are selected essays on the state of theatre. These are wide-ranging and, in addition to musings on the ups and downs of theatrical life, often commemorate the losses of the great such as Sir John Gielgud and Sir Peter Hall or major events including the 400th anniversary of the death of William Shakespeare.
Ironically, several opinion pieces show concern about whether live theatre has a future, more particularly large-scale productions with big casts. The irony comes when you realise that these collected reviews seem to be the perfect refutation to such a proposition.
While most of the essays are closely related to theatrical themes, a couple have political connotations. The first of these lambasts a Tory party leader's speech to the Conservative Party Conference which inspired the comment "what depressed me was the assumption that all politics is now a branch of showbiz. [Party Leader] gave us a performance rather than policies, one-liners rather than joined-up ideas".
No prizes for guessing the identity of this self-satisfied party leader, but surprisingly it wasn't the current holder of the post.
The second, poignant, political piece is an open letter written to Culture Minister Oliver Dowden in the middle of 2020, expressing the fear that if he did not take immediate steps, many theatres might close forever.
At a time when most readers probably expect Christmas to be cancelled, they will at least be able to console themselves about the lack of turkey and heat by purchasing and gifting what will undoubtedly be the best theatrical read of the year.
Reviewer: Philip Fisher