Afloat
Eva O'Connor and Hildegard Ryan
Sunday's Child
Summerhall
–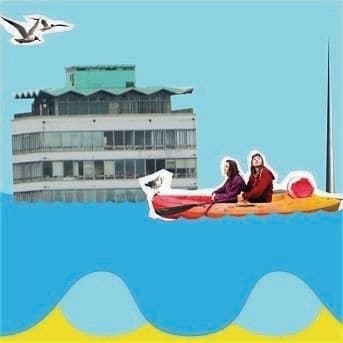 Afloat, produced by the ever-reliable Sunday's Child, is an object lesson in how to fit vast amounts of material into a 50-minute running time while simultaneously entertaining and educating throughout.
On one level, this is the story of Bláthnaid and Debs, a couple of twenty-something Dublin Everywomen dealing with the kinds of everyday issues that could easily be the stuff of soap opera or light comedy. Instead, we meet them at the start of a spa weekend that somehow transforms itself into the kind of dystopian nightmare that we might all face before too long.
The young friends, respectively played by co-writer Eva O'Connor and Anette O'Shea, find their plans irrevocably altered by a tidal wave of biblical proportions, as Dublin is invaded and overwhelmed by the Liffey "deathwave".
Rather than an ark, they are mysteriously marooned on the top floor of Liberty Hall, a century before a weapons factory in the run-up to the Easter Rising but now providing sanctuary. Starvation can easily be staved off by 127 boxes of biscuits but otherwise, the outlook appears bleak to the point where friendship is threatened by depression and panic.
Viewers not only witness a series of snapshots as Bláthnaid and Debs try to get on and get along but also flashbacks and comments through the fourth wall that help to build a picture of their former lives. These include typical concerns about jobs and money but additionally Debs's fears about her mother's cancer and associated drinking problems.
Their story is broken up by a series of extracts from a smooth but terrifying lecture about climate change delivered by Michael-David McKernan. These echo many of the debates currently drifting around the media as COP 26 approaches and highlight governmental evasion and irresponsibility.
The strongest message we should all take away from this story is that, rather than half a century away, tragedy engendered by climate change might be just around the corner and, worse, rather than happening in faraway places like the Arctic or an Amazonian rainforest, it could hit those of us living comfortably on the western tip of Europe.
Anna Simpson directs a cracking, highly enjoyable but occasionally chilling production that is a reminder of why the Edinburgh Fringe can be such an exhilarating experience.
Reviewer: Philip Fisher