After-Before
M J Murphy
Out of Kilter Theatre Company
Online@theSpaceUK
–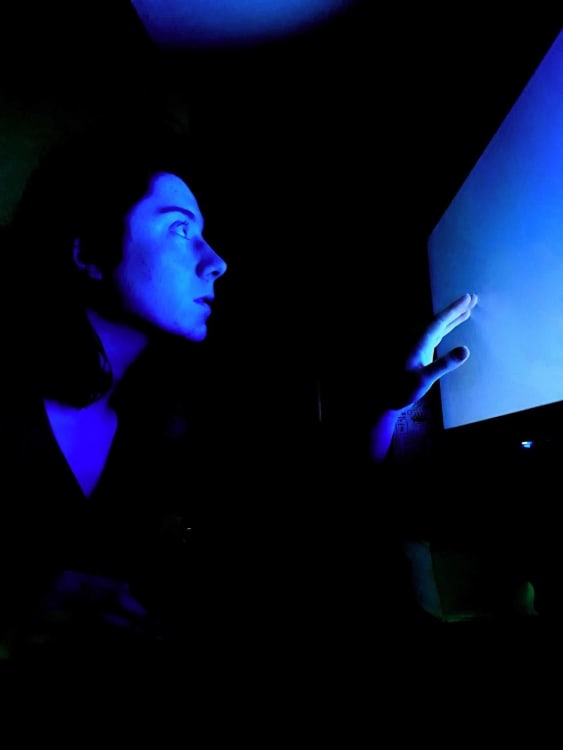 With After-Before, Out of Kilter Theatre Company embraces the opportunities offered by staging a play online. The film opens with a stylish run through cities, along streets and over and around buildings. Shaquille Walfall's visuals are reminiscent of science fiction movies in which Charlton Heston used to combat zombies and may be intended as a comment on our alienating lifestyles or a visual representation of communities after lockdown.
The new normal we are all enduring often seems dreamlike and confused with people being unable to determine the day of the week after being isolated for so long. For Alicia (Sophie Coward), the lack of stimulus and human contact provokes a massive panic attack. She awakes from a dream so vivid she questions whether what she is experiencing is reality or still a dream. As Alicia asks the question aloud, it prompts a computer program—Comp (Emily Heyworth)—to respond and engage in conversation on the subject, encouraging Alicia to go on a journey, as that is how answers are found.
Director Kerry Kawai sets an atmosphere that contrasts the benefits of reality and virtual life with the latter usually seeming preferable. Real life, as represented by Alicia, is unappealing; she is filmed in a gloomy bedroom where the only light is from the computer monitor making her look desperate and grim. Comp by contrast is always filmed in bright cheerful surroundings, impeccably made-up and with a permanent smile. When Alicia begins her journey through an imaginary door in reality, she trips over her own bed.
It is difficult to engage with After-Before on an emotional level. Scant background details make it hard to perceive Alicia as an individual and the character does not work as a representation to which audiences can relate as there is very little context. Although lockdown may have prompted Alicia's panic attack, it is referenced only briefly with a comment on the hypocrisy displayed during the emergency. Possibly the play is using Alicia's crisis as a metaphor and suggesting lockdown is a waking nightmare, but that is not clear. M J Murphy's script, therefore, becomes an intellectual exercise referencing concepts by Voltaire and Descartes and encouraging viewers to challenge concepts they have regarded as certainties.
After-Before is visually interesting but not very engaging. It is hard to avoid the conclusion that Alicia, like all of us, needs to get out a bit more.
Reviewer: David Cunningham