After Dark
Liv Lorent and the company
balletLORENT
Northern Stage, Newcastle
–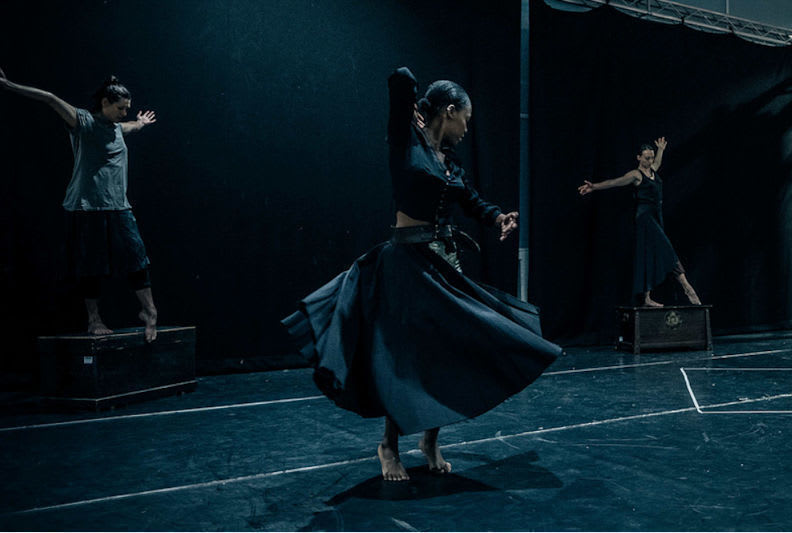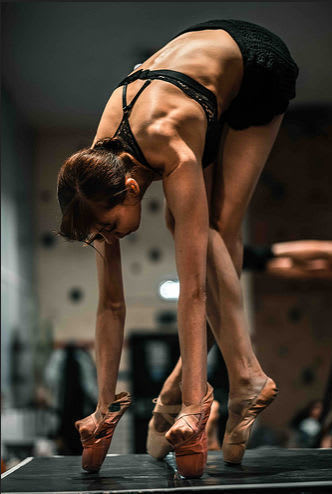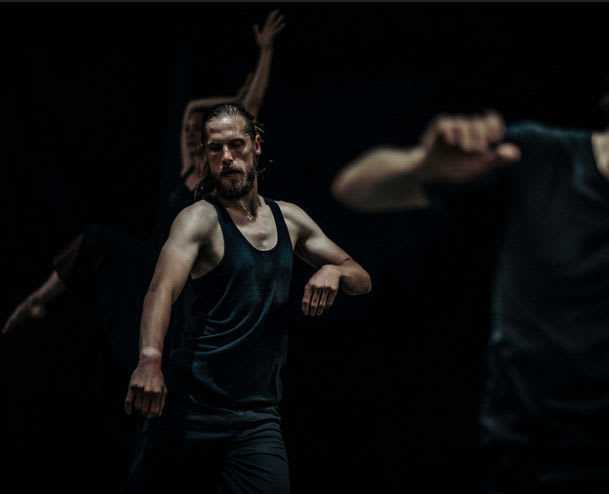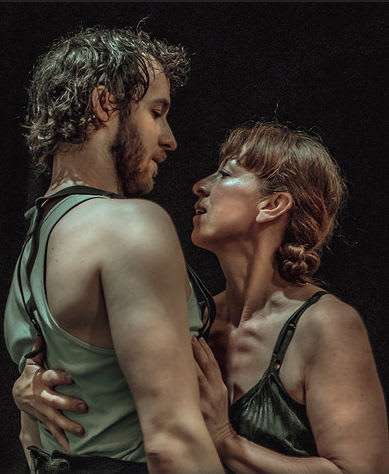 After Dark is a celebration of 25 years of balletLORENT. It focuses on what Liv Lorent calls its "heritage of adult and site specific work" and features elements of la nuit intime (2006), Designer Body (2008) and The Night Ball (2013).
Like la nuit, After Dark is performed cabaret style but with a number of areas in which performances happen simultaneously. One, the largest, could be regarded as the main area and another, a little distance away, is a smaller version of the cage-like central structure of la nuit on which the dancers climb, hang, swing, as well as dance. Other areas, with space for one or two, are scattered around the quite small space of Stage 3 on (at least) two of which are revolves.
The lighting is fairly dim, except on the main area, but the stage lighting is aided by strings of tiny coloured bulbs shining through the haze of stage smoke which hangs in the air.
Liv Lorent tells us in the programme that "the bar will remain open throughout the evening, so please feel free to cross the space." I have to say that I only saw one person doing so, but I may have missed others for your attention is constantly being drawn from one area to another.
Although After Dark features elements from those three significant "adult" productions, they are not at the centre of the show; at that centre is what makes balletLORENT what it is, the dancers. They range from Caroline Reece who joined the company in 1996 to 19 year old Jordaine Lincoln who joined this year, and here each is given a chance to shine, in solo, duet and ensemble.
And shine they do, for it's not just a case of displaying skills in contemporary dance but, as in la nuit and The Night Ball, they are called upon to show expertise in ballroom, aerial, tap, street dance, acrobatic and - for the first time that I remember in a ballet LORENT production – clog dancing (and no doubt more that have slipped my mind. Or they might even have escaped my notice, for this was a kaleidoscope of dance and movement, taking place not just in the six or seven dance areas but in the spaces between too. Would you believe, even roller skates made an appearance!
And, playing as they are in the audience, there's no hiding place: make a mistake, slip up even slightly, mistime just by a fraction and some member (or members) of the audience, within touching distance, is going to know.
It's unremitting, too. The performance is continuous, a 75 minute rollercoaster with just a brief minute or two for dancers to catch their breath. And it's also fast-paced, so strength and stamina as well as skill and training are pushed to their limit. I seem to remember only a couple of momentary collective pauses before the pace resumed.
It was pure balletLORENT; it really couldn't have come from any other company. The choreographic style is distinctive and, as for the performers… Suffice it to say that, between them, the 12 dancers have been with the company a total of 112 years (and one less than a year and another just one year). It is obvious that they know each other so well, that they have full trust in each other, and that they are committed to the balletLORENT ethos.
And yes, the audience loved it and went wild at the end.
Reviewer: Peter Lathan