After Midnight
Conceived by Jack Viertel
Brooks Atkinson Theatre, New York
From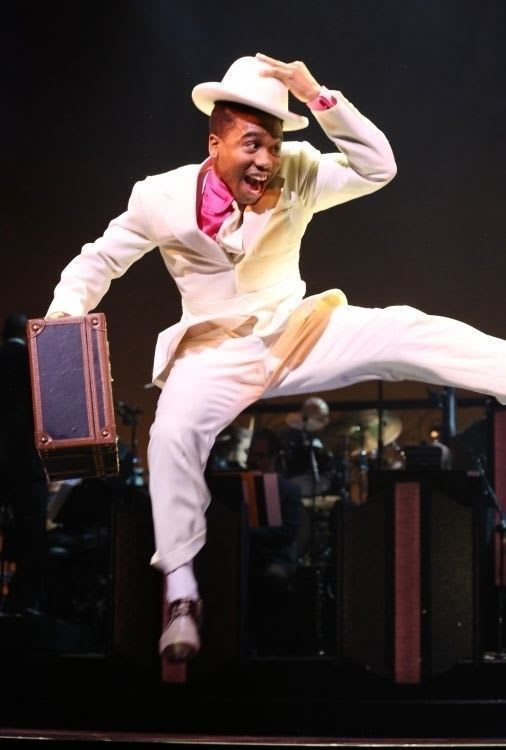 After Midnight is a classic Broadway show that comes under the category of entertainment rather than anything else.
In the first minute, we learn from The West Wing favourite Dulé Hill, who acts as a kind of compère, that we will be spending the next 90 minutes transported back in time to the Cotton Club in Harlem circa 1932.
From there on, the audience is treated to a Jazz Age performance that is intended to blow their socks off and will probably do so.
There isn't a semblance of a plot and the music, played with gusto by The Jazz at Lincoln Center All-Stars, a 16-strong band conducted by Daryl Waters, could have come straight from a period jukebox to which Duke Ellington is the main contributor.
While many of the performers both sing and dance, in most cases they have been recruited due to exceptional skill at one discipline or other.
While Mr Hill is multi-talented, the guest star, sporting a wide variety of anachronistic tattoos, sports a gorgeous voice and great energy. She is American Idol champion Fantasia Barrino.
On the singing front, perhaps the pick of the bunch is Adriane Lenox, perhaps because her cynical songs, especially "Women be Wise", are delivered with unbounded quantities of "Attitude" thanks to the kind of witty character acting that is beyond most of the musical cast.
The choreography, from Warren Carlyle who also directs, is top notch throughout and demands remarkable fitness and energy. For example, there are tap numbers, particularly those danced by Jared Grimes, that defy belief and seem to go on longer than any normal person could manage.
The best dancing duo are Virgil "Lil' O" Gadson, a magical, gravity-defying breakdancer (in 1932?), and, towering over him, the more balletic Karine Platadit.
After Midnight, which has the support of Wynton Marsalis, might just prove to be a long-runner since it will be very attractive to tourists with little or no English, as well as those, particularly jazz-fiends, who demand little more from their evenings than high quality song and dance.
Reviewer: Philip Fisher