After Miss Julie
Patrick Marber after August Strindberg
Young Vic's Maria Studio
–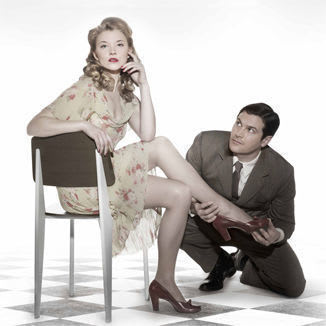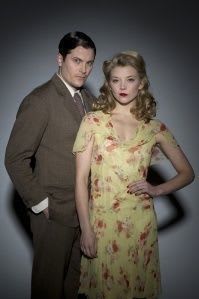 It is not the first theatre to do so but all credit to the Young Vic for embarking on its inaugural eco-friendly Classics for a New Climate production.
The set for Natalie Abrahami's fresh, atmospheric look at this modern classic seems entirely authentic, probably because the design team under Patrick Burnier have been trawling local junk shops and attics for props from the immediate post-war period.
The recyclable tickets are apparently off-cuts from bits of set, while audience members are encouraged to give back their programmes for re-sale and the whole production team ride bikes everywhere. It can only be a matter of time before they go electronic in ticketing and information provision.
The step too far would be to save the globe by asking audience members to observe the action from home, but that is called television, a medium with which all three members of this young cast are familiar.
The set and costumes give a good sense of the period of austerity, leavened by an emotive musical soundtrack, the evening of the opening scene being that on which dear Winston Churchill gave up his premiership to Labour's Clement Atlee and the class system disappeared forever. This is Patrick Marber's main thrust in his re-working of the Strindberg classic.
Miss Julie, played by Natalie Dormer has been disappointed in lust and seeks solace with a bit of rough very literally from below stairs. Interestingly, she behaves in period but also exactly as a rich young thing straight out of a posh girl's boarding school might do in her early fresher days at a uni today.
Kieran Bew plays the family chauffeur, John. He is a salt of the earth type who has nobly served King and Country but lived to tell the tale.
During a sexually stormy night, there might even have been moments when he wondered whether the current torments were not even more difficult to bear than those in the trenches.
He is happily promised to Scottish Christine, a brusque Puritan ably portrayed by Polly Frame. She understands the class dynamic but is still willing to play dirty in a power struggle for her man.
At the other end, is fickle Julie who loves her sexualised fantasy of elopement with the chauffeur to a life of debauchery in New York.
This is a well-judged drama that relies heavily on symbolism, often involving animals including a poor budgie that one hopes was the centre of an illusion, though it was certainly a sharp one.
Once you get over an unnatural West Country accent, Bew does well to mix up subservience with natural pride and the chance to indulge in a little temptation from an unexpected quarter.
For this critic, while Natalie Dormer grows into the part of a sluttish little rich girl after a little excitement, doing her job effectively, she still cannot compete with fond memories of Kelly Reilly at her stage peak opposite Richard Coyle with Helen Baxendale in the background in Michael Grandage's version at the Donmar almost a decade ago.
Even so, this is an enjoyable 90 minutes that takes us back to the eras of the beginning (almost) and middle of the last century while still speaking to us today.
Reviewer: Philip Fisher