After Party
Katharine Armitage
Re:Sound
The International Anthony Burgess Foundation, Cambridge Street, Manchester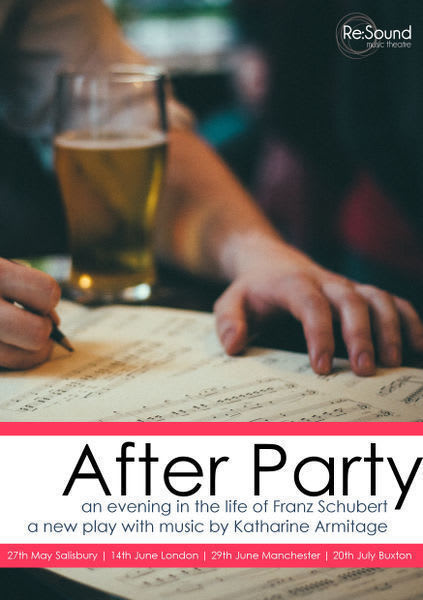 It's a nice idea: to build a drama around a particular stage in the life of the great Viennese composer, Franz Schubert. It's a nice idea to use actor-musicians to weave some of Schubert's excellent lieder into the telling of the tale of the composer, his politically and artistically inspired fiends and even one or two of his loves. Not every nice idea, however, makes for good drama.
Re:Sound's production of Katharine Armitage's piece, After Party, seems well-suited to the space at the International Anthony Burgess Foundation. In effect, the audience are onlookers in a tavern in early nineteenth century Vienna. Four (or perhaps more) friends discuss music, poetry, politics, sex and love, occasionally breaking off to flirt with the barmaid or play parlour games.
The acoustics of the room cradle the sounds of harp (played by Eloise Irving), horn (Oskar McCarthy and Rebecca Lea), piano (Jonathan Ainscough and Rebecca Lea) and most impressively, voice (each member of the cast delivers a fine vocal performance).
Jonathan Ainscough as Schubert plays and sings particularly well (true to history as Schubert was a very able singer). The script, however, laden as it is with incomplete lines of dialogue, sets too heavy a burden on the actor, requiring him to stumble from confusion to speechlessness to the unyielding grip of conflicting emotions. Many of his lines are as unfinished as his final symphony (or indeed, as his pupil, Caroline Esterhazy will have it, as unfinished as the man himself).
Oskar McCarthy is too young for the roles of Schubert's father or his mentor, Michael Vogl, but he has a stage presence and a clarity of diction (both spoken and sung) that persuade us to suspend our disbelief.
The two female members of the cast (Irving and Lea) take on both male and female roles. (How times have changed since the first Queen Elizabeth's day!) They accept the challenge both manfully and womanfully. The problem lies not in the travesty but in the strain it places on the audience to keep track of who is playing whom and at what point.
That said, no one lets the side down and, although the musicianship outmatches the acting, this is in part due to the score towering over the script. Writer Katharine Armitage, who did a decent job with Mortals in the House (a drama based on the ghost stories of Elizabeth Gaskell and performed in Gaskell house), never really gets to grips with her task, here.
Even though the story concludes with an arrest, this does not feel like a climactic moment. This is partly because the drama has not created a sense of foreboding, but also because we have not learned enough of Schubert's seditious friend, Johann Senn, to fear for him, or for the friends who (perhaps) put themselves at risk to stand by him.
Perhaps this tale was always more an anecdote than a drama. The historical facts reveal that, although this incident seems to have caused an irreversible change to their friendship, none of them came to much harm for their antics and beliefs. The most harshly dealt with, Senn, was simply banished from Vienna for life which, in the era of Guantanamo and ISIL, seems a quaint, almost genteel form of political oppression.
Dramas based on real events in real lives can be devilish hard to make work. Our lives are so rich and complex, there is a temptation to pack the script with all manner of fascinating, but extraneous biographical details. The dramatist's key question must always be, What is my story about? For the rest, no matter how seductive, consign it to the flames.
Katherine Wilde's direction makes good use of a promenade production touring non-standard spaces, while Suzi Lombardelli's design is unfussy and effective.
To all intents and purposes, After Party is a Schubert recital with a bit of acting and some parlour games (in which the audience is invited to participate). The musicianship is surely worth the ticket price, make what you will of the rest.
A generous audience at the International Anthony Burgess Foundation demand three curtain calls.
Reviewer: Martin Thomasson