After the End
Dennis Kelly
Paines Plough
Bush Theatre
(2005)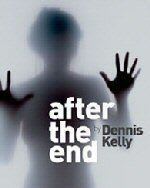 It's an old question. If you were the last woman on earth, who would you choose for the last man? The answer usually comes down to the likes of David Beckham, Jamie Oliver or Tom Cruise.
For poor Irish Louise, when the End comes in the form of a nuclear bomb, her companion in Miriam Buether's submarine-like 1980s shelter is not the gorgeous, intelligent man of her dreams. Instead, she is trapped with the rather unnerving Mark. He is a work colleague that people laugh at but never really know or like.
It doesn't take long for viewers to wonder whether the holocaust is real or Mark's creation in a scheme of super-stalking of a woman who has never really noticed him. The only evidence that supports his story is a nasty burn on his back.
As time passes, the relationship becomes stressed and, strangely, the breaking point comes when Louise refuses to indulge Mark by playing Dungeons and Dragons. As a result he starves and then chains her to the wall.
Eventually, this modern Lord of the Flies sees things get really out of hand as Louise is raped at knife point by Mark who is immediately filled with genuine remorse.
Tom Brooke is fast making his mark playing a series of geeky men and recently had a similar part in Kelly's Osama the Hero. He does it very well and finds a perfect foil in Kerry Condon as the panicky Louise. They do director Roxana Silbert proud, giving fine performances that must be absolutely draining.
After the End is a 100-minute long horror story about the mind games that people play on each other in stressed, claustrophobic circumstances. Dennis Kelly seems to have found a particular voice that thrives by making his characters suffer. His work may not be cheerful but it is very much his own.
Reviewer: Philip Fisher