Afterglow
Julie Burrow
Pull Your Finger Out Productions
24:7 Theatre Festival, New Century House, Manchester
–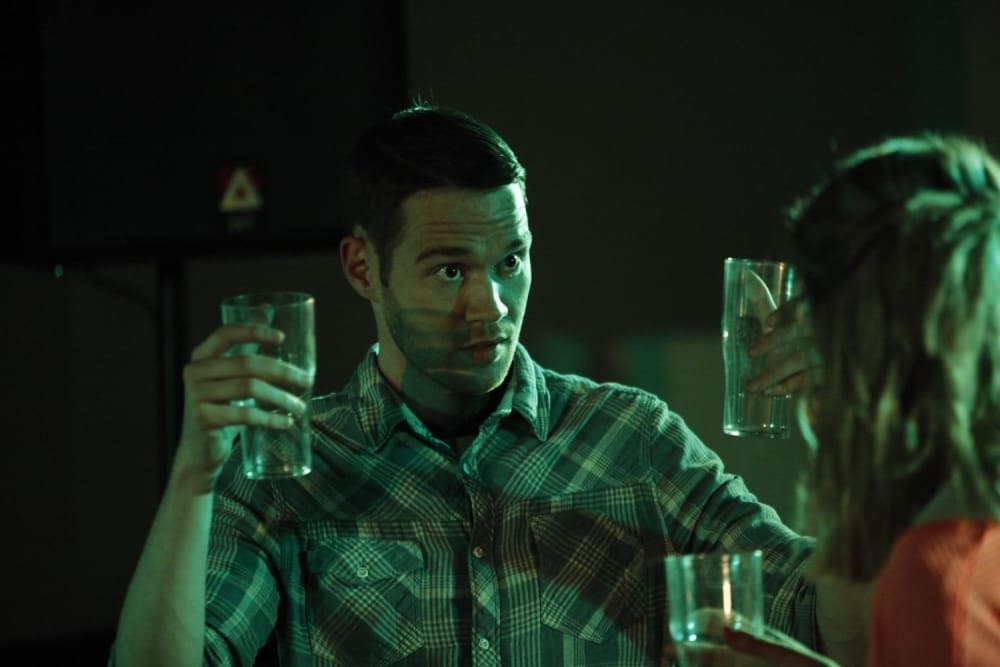 Writer Julie Burrows takes the lead role in her play, which shares many aims with In My Bed at this year's 24:7—both track a relationship from beginning to end from a female point of view, set in her bedroom, and examine how specific, tiny moments affect the course of their lives—but their modes of communicating this message are very different.
Burrows contradicts the "show don't tell" mantra of scriptwriting courses and books with such wilfulness that she makes Proust look like a minimalist. In this two-hander, almost all of the lines are delivered directly to the audience, describing every action, what the characters are thinking, how they are feeling and how they later reflected on their words and actions.
This intriguing method expands time hugely so that every moment can be examined—the action of the play, if played as conventional scenes, would probably be over in a quarter of the time—and gives the playwright the ability to communicate the characters' thoughts in a level of detail usually only available to the novelist. At one point, the characters—only named Him and Her in the programme—step out of themselves in the scene and talk to one another as narrators, looking back on what happened.
The actual plot, once it is pared down to essential details, is fairly simplistic. We are given the impression at the start that the relationship is over, so I don't think I'm giving anything away by saying that we see them meet in a club, start to see one another, start living together, fall into a routine, become bored and gradually grow apart until they face the final confrontation.
The two main characters are played effectively by Burrow and John Weaver. The staging, by director Megan Marie Griffith and assistant director Emma Chapman, utilises the bedroom furniture as objects in the different locations, which isn't particularly original but works reasonably well, but the screens at the back which are turned to change location don't look very good and make the stage appear cluttered. There is some effective use of music and sound effects from Alexandre Carvahlo, but occasionally these started to drown out the dialogue.
The style of presentation is very interesting, but the underlying plot for me didn't have enough substance to warrant the close investigation, and so it became rather word-heavy and drawn out later on. However as a first full-length play from this writer, it does show promise for what she may produce in the future.
Reviewer: David Chadderton