In My Bed
Rebekah Harrison
24:7 Theatre Festival, New Century House, Manchester
–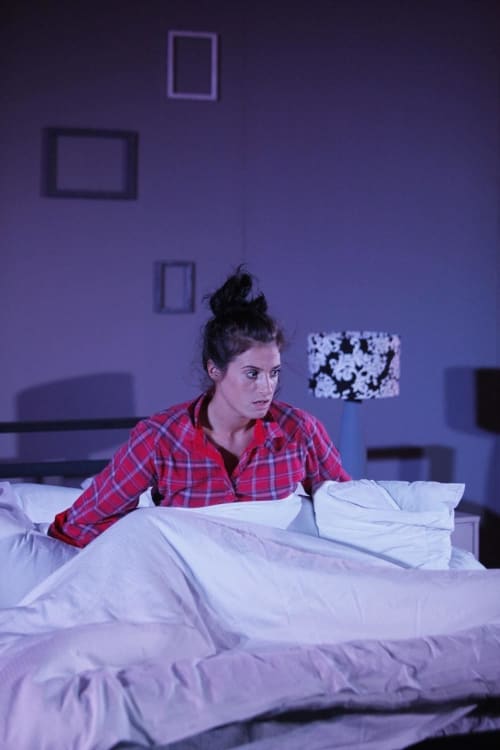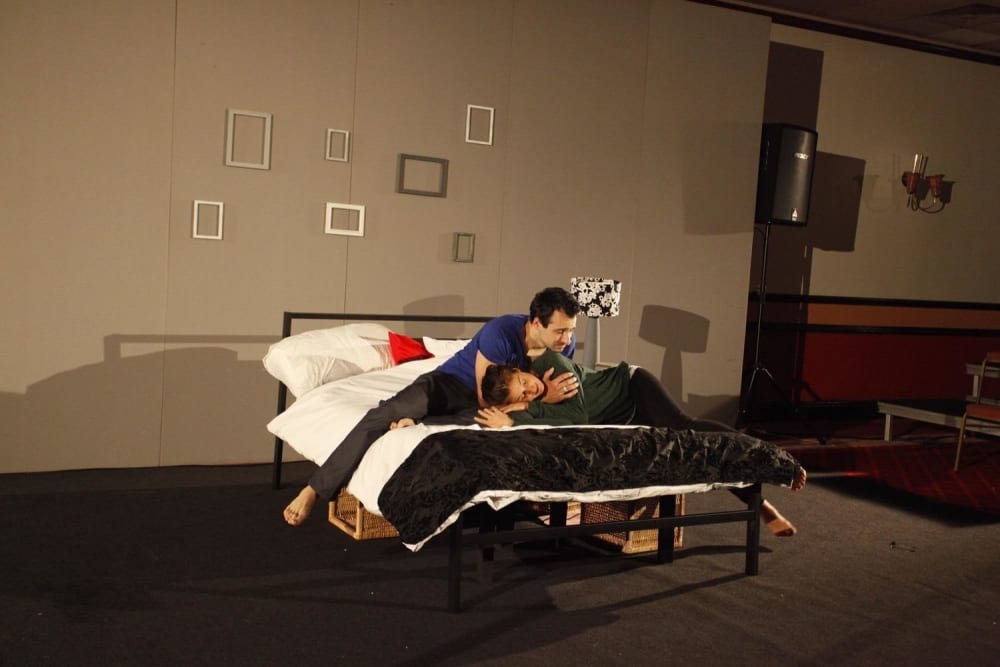 It can't be easy to get back into the flow of a production like this when interrupted by a fire alarm, but this cast did exactly that, showing us a few scenes we'd already seen to get us and the cast back up to pace until it was like we'd never had to stand awkwardly outside for ten minutes.
While not inspiring as a title, the play takes place in the bed, or at least the bedroom, of Sarah, who it seems has had a failed marriage in the past and has been single since. Then along comes Danny, who seems perfect for her in so many ways, but when they get back to the bedroom he prefers snuggles to sex. And this goes on—for months.
If this seems odd to us, to Sarah's flatmate Rose it is creepy and bound to end in tears for her friend (it does—we see that at the start). He is also very secretive about his life outside the time they spend together, which arouses Sarah's suspicions, but by then she has already fallen for him.
Rebekah Harrison's script covers a long period of time, but the transitions are slick and convincing. While the main thrust of the story is chronological, she jumps occasionally to the end or back to lines we've already heard, which is something a lot of young playwrights toy with but here is mostly effective. A change in time is signified simply by a change of attitude or a move, but it is always clear in Matt Hassall's slick, fast-moving production.
There are some jumps and repeated lines that seem like an affectation purely for effect and which do not really add anything to the storytelling of the play and the final showdown does drag on a bit, but these can be forgiven in what is largely a compelling, well-told story.
It is also well-performed. Kurt Nikko is mostly fine as odd love interest Danny, but he is really in the shadow of two exceptional performances from the female cast. Amy Drake, who was excellent recently JB Shorts 10, is perfect as Sarah's fun-loving but loyal and caring friend, and Olivia Sweeney as Sarah gives perhaps the stand-out performance of this year's festival.
The use of music is just enough to add to the atmosphere and lead us between scenes without ever becoming overpowering or intrusive, and even the design fits perfectly with the standard grey backdrop used by all of the productions in this space, showing a great attention to detail by the whole team.
Having seen nine out of the ten plays in this year's 24:7 as I write this, I would currently recommend this play as the one to see if you can only see one.
Reviewer: David Chadderton