AfterLight
Choreography by Russell Maliphant
Russell Maliphant Company
Sadler's Wells
(2010)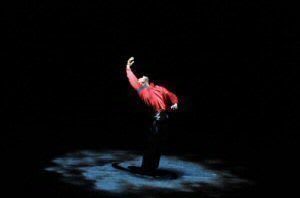 Russell Maliphant has developed his breathtaking fifteen-minute solo piece AfterLight, part of last year's In the Spirit of Diaghilev programme, into a deceptively serene full-length one-hour ballet for a trio of dancers.
Two female dancers (Silvina Cortés and Olga Cobos) have been added, but it is still Diaghilev's favoured dancer Vaclav Nijinsky that he is really and truly celebrating. And one can't take one's eyes off his reincarnation, Daniel Proietto.
Last October I wrote, "Inspired by Nijinsky's sketches - swirling shapes, the arcs of dance's ebb and flow - Maliphant has one dancer turning and spinning like a mobile caught on a breeze, in the light of the dying sun. Dreamy, romantic, pure movement exploring space to the very fingertips fluttering like butterflies under Michael Hulls' dust-flecked dim sculpting spotlight. Arms tasselling, torso yielding to Satie's Gnossiennes, Nijinsky is captured in a simple concept. Daniel Proietto is the Spectre de la Rose, is the Slave, is Petrushka, is le faune. Beautiful."
That is now Part One. And still as wondrous if not more so.
In red top, pale cloche hat and grey tracksuit pants, Proietto is the dancer on top of the musical box turntable who comes to life like an unfolding petal, with an inner spiritual life that we can only surmise. Or empathise with - this is all about empathy and intuition.
He reaches for the heavens, yet is centred, trapped, in the spotlight. He strips away his hat and red top, and the flower image is gone, tossed away. He is a zephyr swirling like the wind, fluid like water Liquefied movement. He is all of the elements. Ethereal yet grounded.
Parts Two and Three extend the playful faune image with the addition of two naiad nymphs to gambol with him in the Ovidian mythical leafy glade, created simply by Hulls' lighting, and by Jan Urbanowski's and James Chorley's framing animation.
Cortés and Cobos in white shifts and Proietto in white three-quarter length tight pants and bared torso create Indian miniature tableaux in duet and trio variations against the downward play of light on a grey stage - one has to imagine the colour. Shifting white cloud formations on the front gauze suggest gods on Tibetan mountain tops.
After Part One Part Two is anti-climactic: a peaceful lull in Arcadia without the disturbingly sensual male. Part Three comes to life when the Pantheistic Proietto joins the nymphs in their games (reflecting Nijinsky's Jeux).
Transcendentally cool, Maliphant eloquently weaves his own influences from martial arts, yoga, tai chi, capoeira, classical ballet, and contact improvisation into a sensitive emotive creation that honours the past, whilst remaining true to his own style.
Rich in allusions, with references raided from images of, and by, Nijinsky, the spectre of Nijinsky is brought to life - the Golden Slave in Sheherazade, the Siamese Dancer in Les Orientales - in fleeting poses and soft arms and shoulders (Proietto's exquisite épaulement is incredible) to Andy Cowton's soundscape and music full of Eastern promise (Parts Two and Three). In the dim crepuscular light, one is transported back to the classical Romantic ballets, and one marvels at the evolution of dance.
Maliphant and his collaborators sculpt in time, sculpt in light, sculpt in motion. A subtle distilled essence of dance from the past and present brought to life by Daniel Proietto - it is his evening, as the audience acknowledge. Swift, supple, delicate, graceful and strong, he is irresistible. And entrancing.
Reviewer: Vera Liber