Aftermath
Jessica Blank and Erik Jensen
Old Vic Tunnels
(2010)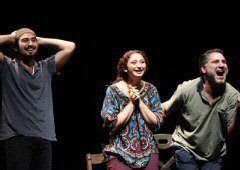 Actors Jessica Blank and Erik Jensen had one of the most unexpected theatrical hits of recent years with The Exonerated. That play was a desperately moving and dramatic Verbatim piece of political theatre that deservedly became a world-wide hit. Through their own words, it explored the experiences of innocent prisoners who spent years on Death Row.
The pair have now turned their attention to the tragedy that is Iraq, and try to repeat the formula by focusing on nine Iraqis exiled in Jordan.
The group turn out to be a good cross section of society and, for around 90 minutes, provide a picture of the human cost of a war that most of us only know through print and broadcast media that are usually only interested in allied losses.
The location chosen for the British premiere is strange, as the Old Vic Tunnels beneath Waterloo Station are victim to the passage of rumbling trains not very far overhead that make these anguished personal testimonies difficult to hear at times.
Under Miss Blank's direction, the Iraqis begin the play by reminiscing about life in the old days before the watershed of 2003 when the Americans invaded in an effort to rid the country of the scourge that was Saddam Hussein (and maybe even to protect oil supplies while they were there).
Although existing under Saddam wasn't necessarily a bowl of cherries, life in "the cradle of civilisation" and its capital Baghdad was pretty good, leaving behind many happy memories for them all.
Slowly, the testimonies move us on in time to the beginnings of war and the period since. This can be hard to take, as horrors pile up, affecting all regardless of religion or political affiliation.
A Christian woman is blinded and her family slaughtered, an imam is tortured in Abu Ghraib, husbands and wives, children and parents are killed indiscriminately not only by Sunni and Shia militiamen but also ignorant American soldiers who cannot (or choose not to) tell the difference between guerrillas and ordinary men, women and children.
While Aftermath does not have the same dramatic tension or narrative drive as The Exonerated, nevertheless it is a powerful piece of Verbatim Theatre that will make any visitor reconsider what the Iraqis have suffered and thank their lucky stars that, in relative terms, their own country really is civilised.
Reviewer: Philip Fisher