Age of Rage
Adapted by Koen Tachelet and Ivo van Hove after Euripides and Aeschylus
International Theatre Amsterdam, Holland Festival, Bl!ndman, La Villette Paris; Barbican London
Barbican Theatre
–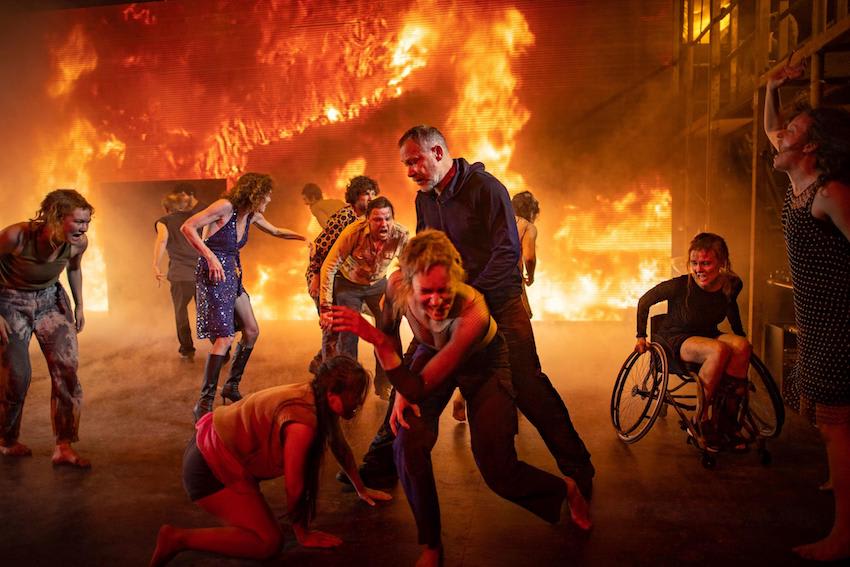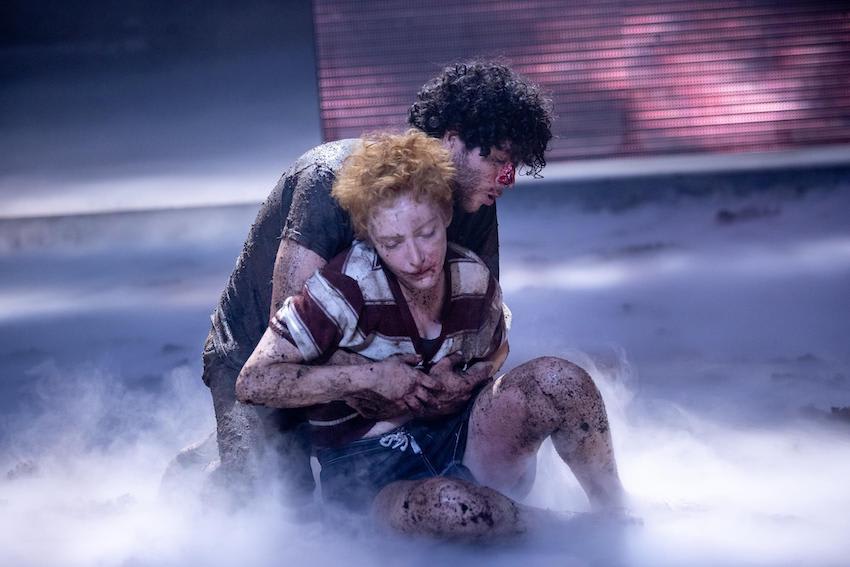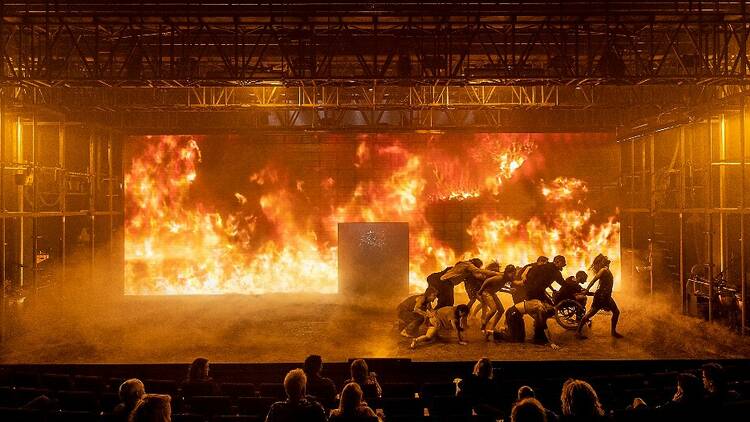 While in Woolwich, Punchdrunk is presenting its version of the story of the Trojan War and the family of Atreus, International Theatre Amsterdam has brought its take on the classic Greek saga to the Barbican for a brief visit.
Ivo van Hove and Koen Tachelet have woven six plays by Euripides and one by Aeschylus into a single evening that lasts nearly four hours if you include the interval and give it a spectacular staging that takes the story from the Greek fleet wanting wind before they can sail for Troy and requiring the sacrifice of their leader's daughter through a succession of bloody revenge killings until the intervention of the god Apollo brings an end to them.
It is played out on a near empty stage framed by a grid of hangar-like scaffolding, a gauze in front of its rear wall, to facilitate violent video projections and a stage cloth that turns into muddy turf halfway through. Throughout, there is a percussive sound score by Eric Sleichim, performed by music collective BL!NDMAN, that ranges from a murmur of persistent pulsations to deafening crescendos and guitar riffs; sometimes like an animal in pain.
While Punchdrunk abandons spoken text, every word is loud and clear in Age of Rage (in Dutch but with easily legible subtitles in English) but van Hove and choreographer Wim Vandekeybus give it a viscerally physical production that often melds into dance.
As the audience assemble, family trees of the gods on Olympus and the rules of Greece and Troy are projected, while upstage, there are naked flames flaring on barbecues. A foretaste of what is to come and perhaps a reference to literal cooking, for the story actually starts with a reference back to Tantalus, founder of the Atreid dynasty, who served up his son as a meal for the gods and Atreus who killed his nephews and fed them to his brother Thyestes.
Atreus was the father of Agamemnon and Menelaus and Thyestes of Aegisthus, all of whom have leading roles in what follows, and from now on, it is straightforward storytelling presented with hieratic stylisation.
Euripides is the most humane of the ancient dramatists and Hans Kesting suggests both Agamemnon's authority and the genuine affection he feels for the daughter whom circumstances demand he should kill. Ilke Paddenburg makes Iphigenia a playful, excited little girl. In a deft piece of theatre, she turns into a deer on the altar as she dances to video heaven in a her red dress. Later, she reappears in the roles of the other sacrificial victims who will come later repeating a similar ritual.
Though she claims to be a dutiful wife, Chris Nietvelt's Clytemnestra seems distant from him, picking up on the fact that this was a forced marriage. She doubles as her sister Helen, striking in strutting copulation as she reclaims Gijs Scholten van Aschat's Menelaus.
Fires rage on the video wall, smoke billows and mist spreads out into the auditorium and powerful images are matched by classically simple performances. Janni Goslinga is a bitter and vengeful Hecuba using a wheelchair like a weapon; Hélène Devos an Elektra driven by her resentment; Minne Koole an Orestes caught up in something he can't control, self-flagellating as he imagines himself pursued by the Furies. It is his friend Pylades (Maarten Heijmans), desperate to be part of things, who gets the happy ending, though you would hardly notice—this isn't his story.
Together with a chorus, the company come together in choreography that erupts into ritual. It sometimes seems to have more energy than meaning, but is all part of a very physical presentation.
With actors playing more than one role, occasional reminders from that family tree give guidance to new characters and things are easy to follow (you don't need to have studied the classics) and nearly four hours passes very quickly.
The equivalent of seven classical plays in one evening, this latest from van Hove doesn't disappoint.
Reviewer: Howard Loxton