Alvin Ailey American Dance Theater 2010 UK Tour
Programme One: Suite Otis; The Hunt; Dancing Spirit; In/Side; Revelations
Sadler's Wells
(2010)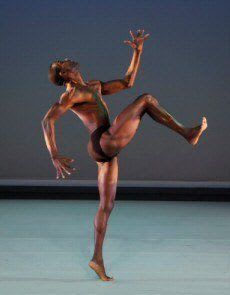 Hard to believe the Alvin Ailey American Dance Theater Company, founded in 1958, is to have its third director, as the spirit of its founder, maintained and cherished by his successor, the illustrious Judith Jamison, is still so powerful. Next year dancer and choreographer Robert Battle takes over from Jamison, who has kept the flame burning since Ailey's untimely death in 1989.
The flame still burns. The baton is being passed on, but Ailey's choreography eclipses them all. Ailey's 1960 Revelations to traditional gospel music, danced by the whole company, ends the evening and brings the house down. So much so, that we are given an encore. Unbelievable. The longest piece of the evening; yet the one that flies by. This one alone is worth the visit. Glorious and joyous. It shares both programmes one and two. And well it should.
Ten memorable gospels, interpreted literally, women in long church-going dresses, carrying fans and parasols against the blazing sun, men in waistcoats, and stripped to the waist, dance out their demons and celebrate God and the community on a scorching day. Costumes of the antebellum south; moves and lifts classical and contemporary (Martha Graham). Powerful male physiques, supple women, pace, precision, hauteur. And wit: a flock of women in orange yellow frocks and bonnets sit on stools and dance with their upper bodies, backs to the audience. The sun cools down, and they rock their souls .
A generous evening of dance, over two and a half hours long, but an evening of mixed blessings. Beautiful exceptional dancers, great musical choices, unsophisticated dance vocabulary.
The dancers are outstanding, as expected, their stamina remarkable, and their musicality infectious, not to mention their superlative bodies. It's impossible to name all thirty dancers, and maybe invidious to pick any out, as this is a company of dancers, but tall powerfully-built yet flexible Jamar Roberts, expressive Clifton Brown and vibrant and graceful Linda Celeste Sims stay in the mind's eye. Above all, Renee Robinson, a thirty-year-long veteran of the company, classically trained, body rippling, shoulders with a life of their own, as fresh as a twenty-year-old, is the supreme example of the Ailey style.
The music, reflecting some of the best of black American culture, Otis Redding, Duke Ellington, Nina Simone, with a dash of contemporary, Wynton Marsalis, Les Tambours du Bronx, is both exciting and nostalgic. Terrific to dance to, yet the choreographic vocabulary sometimes feels limited.
Suite Otis (1971), choreographed by George Faison to a 35-minute taped medley of Redding's songs, is dance theatre showbiz, high kicks, flailing arms, strutting, flouncing. Love and sex Men in tight lilac pants and shirts, a (jilted?) woman in a black wedding dress (Martha Graham again), nagging women and brazen men. But the choreography is dulled by an over-literal naïve interpretation of the songs.
The Hunt (2010), choreographed by artistic director designate Robert Battle, to the persuasive atavistic beat of Les Tambours du Bronx, is promising. A rite of passage for six men in long red-lined black samurai skirts (Mia McSwain) and bare torsos that gleam in Burke Wilmore's shards of light penetrating the forest canopy gloom. To jungle jazz rhythms the men fight, hunt, compete, and prove themselves. Masai warriors compelled by the beat in synchronised and in circle dance, in unison and opposition. Mythical, mystical, feet and male testosterone pounding The audience loved it.
Battle shows his range with the 7-minute anguished solo, In/Side, to Nina Simone's haunting brooding Wild is the Wind. Samuel Lee Roberts, a William Blake muscle drawn perfect specimen of a young man, writhes, silent scream distorting his features, against the beat of the song. In conflict with the music, but expressive of the lyrics, the short piece is intense, but not involving. Roberts looks delighted and surprised at the applause. Or relieved.
Dancing Spirit (2009), choreographed by Ronald K. Brown, looks to both continents of the Americas for its dancing spirit. A mélange of dancing styles and music. To meditative mellow blue jazz, nine dancers form and reform into trios, chords of music, diagonally across the stage. Wonderful extensions and mobile upper bodies. Strings, saxophone, and horn blend in, and the movement changes. Echoing the music, the dancers, lost in the sounds of freeform jazz, do their own thing (an untidy stage picture). Another layer is added - African rhythms overlap urban jazz - the trill of tropical birds competes with the whistle of trains. In come the Peruvian pipes. Then Afro-Cuban sounds. Hot rhythms, as the sun beats down.
Dancing from the break of dawn till the moon and stars come out. But, the musical syntax is much more interesting than the dance grammar. Yet, the dancers can't be faulted. They are the reason to go to the show. And the music.
Programme Two presents a world premiere from Christopher L. Huggins, Anointed, and Jamison's 1993 Hymn, as well as Ailey's signature work Revelations. Go to both. Who knows when they will be here again
Running until 25th September 2010, then touring to Nottingham, Royal Centre 1 - 2 October 2010; Birmingham Hippodrome 5 - 6 October 2010; Plymouth Theatre Royal 8 - 9 October 2010; Cardiff, Wales Millennium Centre 12 - 13 October 2010; Bradford, Alhambra 15 - 16 October 2010; Edinburgh Festival Theatre 19 - 20 October 2010; Newcastle Theatre Royal 22 - 23 October 2010.
Reviewer: Vera Liber