Ain't Too Proud: The Life and Times of the Temptations
Book by Dominique Morisseau, music and lyrics from the Motown catalogue
Imperial Theatre, New York
–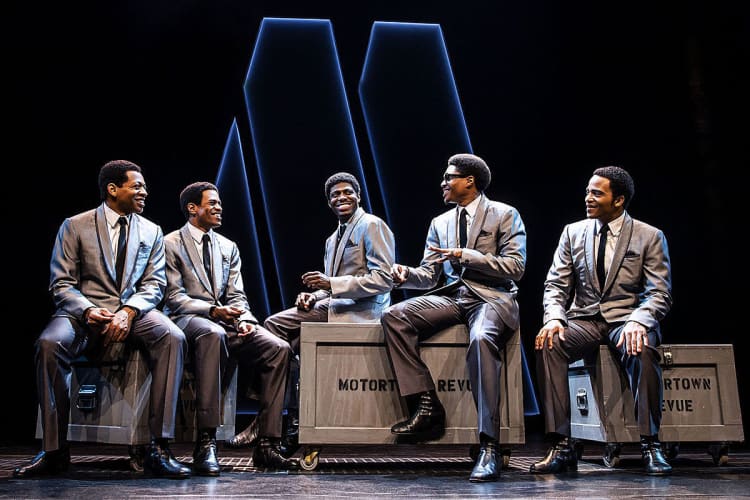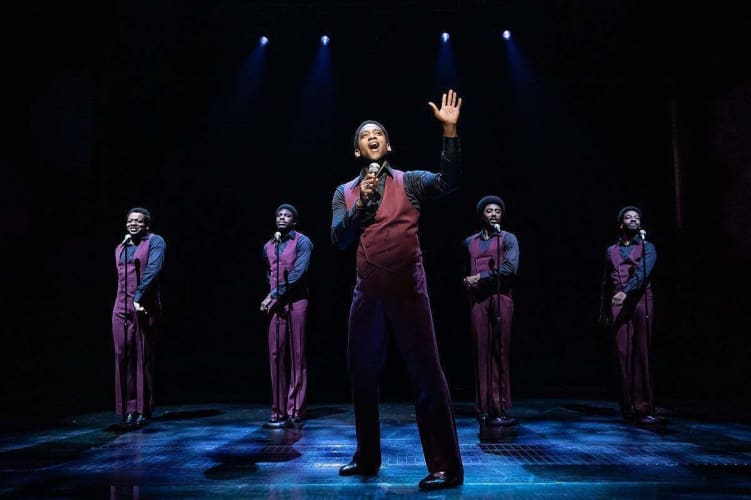 Ain't Too Proud is a classic tale of sex 'n' drugs 'n' rhythm 'n' blues.
Playwright Dominique Morisseau has been drafted in to tell the story of The Temptations using as her source the book by its guiding light, Otis Williams, played at the performance under review by Curtis Wiley.
She has used the tried and trusted formula that proved so successful for those behind shows such as Jersey Boys and Beautiful. Using Williams as a narrator, the first half of a performance that runs at just over two and half hours opens in Detroit in the early 1960s just as the city was establishing itself as Motown.
Almost inevitably, the boys who got together to sing harmoniously came from the wrong side of the tracks, Williams becoming a hoodlum who spent six months in prison aged 16. However, he knew that he could sing and, more significantly, was an organised coordinator who brought together a five-man group and then conveniently managed to bump into the legendary Berry Gordy in a men's latrine.
With the help of Smokey Robinson, the band was soon making waves, although almost immediately there were changes in personnel, a theme that runs through the evening. Soon though, a relatively settled line-up started reeling off a stream of hits and one of the early boy bands was touring America and then the world, second only at Motown Records to The Supremes. However, even Diana Ross and her friends could not hold off the group that recorded "My Girl", "If You Don't Know Me By Now" and "Just My Imagination" plus so many other iconic songs.
True to form, intoxicants and prickly personalities began to impinge on what should have been happy days. In particular, Elijah Ahmad Lewis's David Ruffin let his ego override the team spirit, while Eddie Kendricks played by Jelani Remi loved nothing more than starting and perpetuating argument. While all of this was going on, Otis Williams had his own problems, having fathered a child while still a teenager but never finding the time to see, let alone look after, mother or baby. There are the inevitable fights with management over money and a more original element is an interest in the Civil Rights movement, which wrong-foots Gordy.
The band continually changed its five-strong teams, even at one point following a troubled reunion reaching seven. Because the music was so good, the quibbles and problems were generally overcome. Unhealthy lifestyles must eventually take their toll and, gradually, tragedy becomes a regular part of the story. Eventually, Ain't Too Proud is not only a celebration of The Temptations but also a homage to those who passed much too early as the evening builds to a heartfelt rendition of "Papa was a Rolling Stone".
Even though the majority of biographical jukebox musicals seem to have similar plots, they remain popular. The reason is obvious: fans love wallowing in the nostalgia of music with which they have grown up. Indeed, the woman sitting next to this critic insisted on singing along with all of the songs, proving far less tuneful than the performers on stage.
In addition, director Des McAnuff makes the most of Sergio Trujillo's sharp choreography and the talents of a large team of fine performers. All of the leads sing delightfully, in addition to those named, James Harkness, deep bass Jawan M Jackson and Saint Aubyn guarantee a great sound.
This show does exactly what the punters have paid for and will undoubtedly delight fans of the group, while introducing it to a whole new audience who know the songs but not necessarily the history or their source.
Reviewer: Philip Fisher