Aisha and Abhaya
Director Kibwe Tavares, choreography Sharon Eyal & Gai Behar, music and sound design Ori Lichtik / Gaika
Rambert
Linbury Theatre, Royal Opera House
–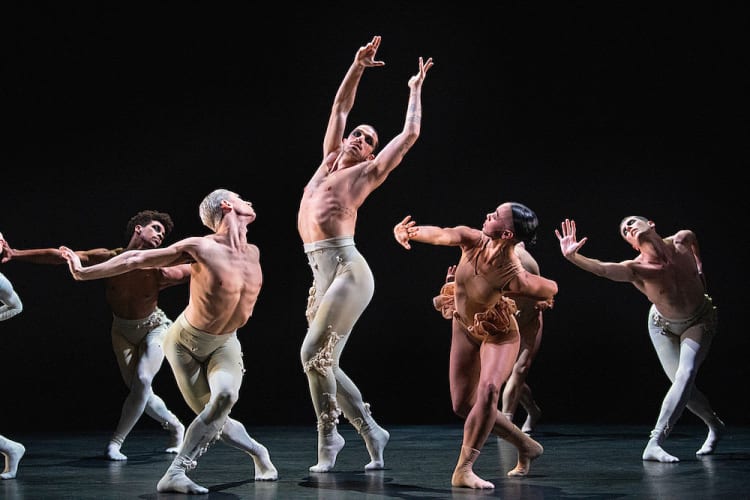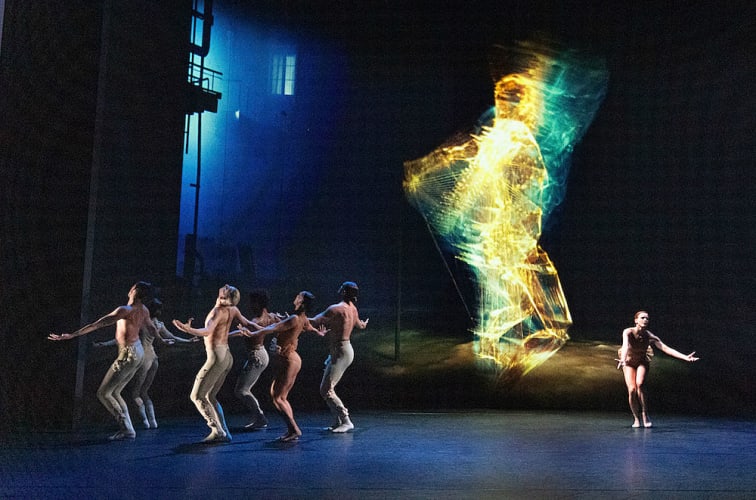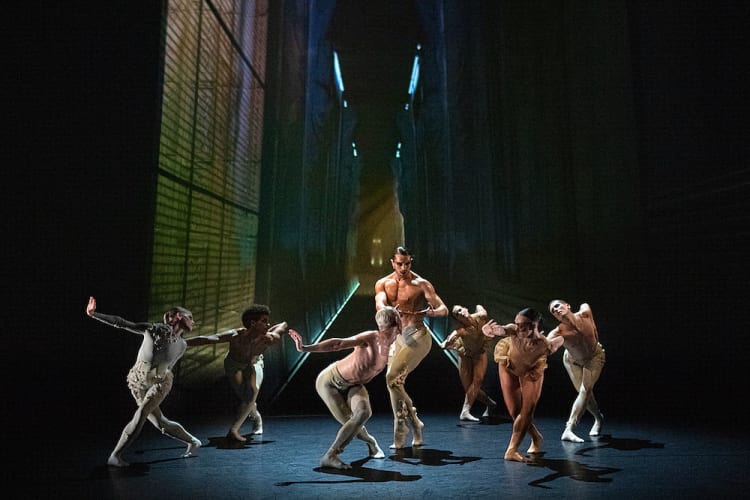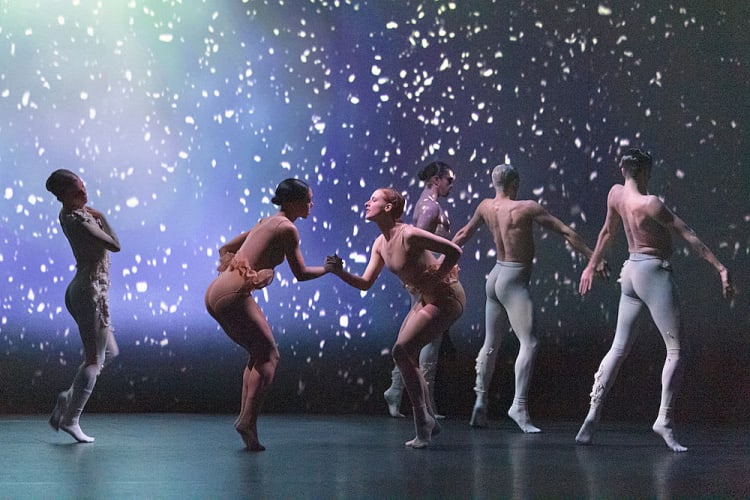 In a unique opportunity to collaborate with Rambert in a co-production with The Royal Ballet and in association with BBC Films, filmmaker and animator ("futuristic 3D" animation) Kibwe Tavares in his first work for theatre settled on a fairy story, on Hans Christian Andersen's The Little Match Girl, as his starting point for "a contemporary tale of hope and fearlessness."
If I'd not read that I would never have guessed. The Lost Boys from Peter Pan, maybe, AI robots, futuristic cities, Blade Runner or Brave New World, pharaonic tunnels, Tarkovskian zones, computer graphics, doors of perception and corridors of the mind... and motion capture—refracting 3D images in gold make me think of Tinkerbell...
This can't be right. Am I not taking it seriously enough? I'm afraid I don't pick up on "the sense of loss and yearning for home". But before I go on, I must say the talent involved is remarkable, especially the living hardware—the Rambert dancers. But the blend of fantastical film and dance—film as distracting backcloth—is not a sublime one.
It's like simultaneous interpretation, one's active mind has to juggle two idioms, and apparently UN interpreters can only do this in twenty-minute stretches. Here it is three times that, a long epic hour, with much to take on board. Overload, and ambition, the creatives credits alone take up two pages in the programme.
Two sisters, Aisha and Abhaya (names meaning 'she who lives' and 'fearlessness'), in elaborate Russian / Oriental mix (designer is the talented Russian Uldus Bakhtiozina) costumes (kokoshnik headdresses and strings of pearls make me think the Snow Maiden, but that can't be right either) and high heels wash up on a shore in a foreign land, looking immaculate and beautiful. They make a shelter from an upturned boat, find a forest encampment of 'lost boys' and are given duvet coats. Is this a fashion shoot?
An impressionistic multimedia story of the displaced and their journey, their past and their attachment to an older woman, who is battered to death in her museum home by balaclava clad soldiers. An ancient world destroyed. The girls watch behind a screen, glycerine tears falling. She remains alive in their memories and floats up into the eternal cosmos, snowflakes falling around her, or are they stars and planets?
The girls come across an abandoned citadel, a stockade, explore its endless passages, and this is where we become aware of androgynous dancers, barely visible on the stage, in nude leotards, men bare-torsoed, twisting, writhing, shivering, shuddering, every joint and muscle movings. The seven dancers are all amazing, incredible in their stamina, in their animal energy.
Why they are dancing, who knows... is it a collective exorcism, a group orgasm, hips grinding, shoulders jerking, fists clenched, on and on they go, wound up for eternity. Sharon Eyal's choreography—a cross between Hofesh Shechter and Wayne McGregor, extreme articulation and rhythmic beat—is random, relentless and demanding. If you've seen it once you won't forget it.
To Ori Lichtik and Gaika's techno beats, they are compelled to go on, like Vicky Page in The Red Shoes. Bodies glistening with sweat, they are wound up robots programmed by the droning industrial music (we are given earplugs) to ceaseless motion. What are we but machines after all...
The club scene meets sci-fi: spellbinding in its repetitiveness, is it punishment or sadomasochistic pleasure? Rambert dancers are put through the mill—they deserve medals. Guillaume Quéau, head and shoulders above the rest, is a messianic powerhouse of endurance and grit—as are they all, Hannah Rudd, Juan Gil, Liam Francis, Edit Domoszlai, Daniel Davidson and guest Maëva Bertholet (Abhaya in the film).
Back to the film, now a Metropolis in the sky, the dancers have multiplied into an army on the screen, an army from another planet. A militant Leni Riefenstahl show, a triumph of the will. Multiverses have been traversed. "We are stardust, we are golden"… (apologies to Joni Mitchell).
Reviewer: Vera Liber